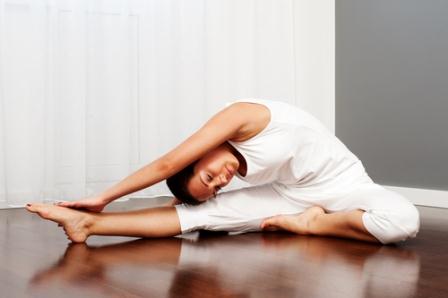 Yoga…so universal.  Pretty much anyone can do it, at home or the gym, and to your desired outcome.  Whether you are looking for relaxation, invigoration or to get a really banging' bod, yoga has something for you.
I have missed my regular yoga practice, just didn't get to it much during our long holiday break.  This week I have been doing some different stuff, mainly weight machines.  And boy am I sore!
That is one thing about yoga, it is so gentle on your body.  That is not to say that yoga can't make you sore, it definitely can.  But not in that super painful, make you want to take a nap sort of way.  The practice of yoga makes you feel strong, lean and balanced, and I can't wait to get back to it.
One of my favorite yoga DVDs to do at home is Jillian Michael's Yoga Meltdown.  I know that Jillian is not the first fitness guru that comes to mind when you think of yoga, but this 30 minute workout really gets the job done.  And check out Becky's tips on greening your yoga practice.
Do you have a favorite yoga DVD or workout that you'd like to share with the rest of us?  C'mon, we can get motivated together!