Of all the gimmicks I've heard that supposedly promote hair growth, snake oil for hair is by far one of the most bizarre.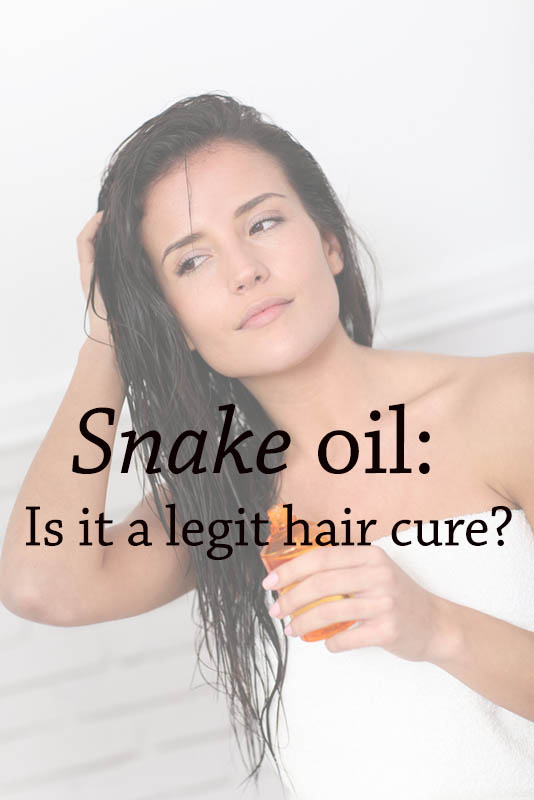 Ironically, "snake oil" usually refers to phony health products or a product that advertises an unverifiable benefit. Rumor has it snake oil is also an elixir that promotes hair growth and health.
Why is snake oil supposed to be good for hair?
Snake oil is supposedly good for hair because it moisturizes the scalp and helps hair retain moisture without making it frizzy. It also allegedly has protective properties that form a barrier between hair and chemicals like chlorine, and also harsh sunlight. But the most common myth (I say myth because it's hardly proven) is that snake oil promotes hair growth.
Interestingly enough, most of the products advertised as "snake oil" don't contain snake oil at all, just a bunch of oil-based moisturizers.
Snake oil for hair was more common in the Middle East and eastern Europe, but you can find some relatively easy online. It actually got its start in Egypt, where it was used as a cure for male-pattern baldness when mixed with a cocktail of other animal-based oils. (PS- read more about where it came from and some of its other uses here!)
Are there any ethical issues associated with snake oil?
Snake oil originally came from the fats extracted from Chinese water snakes. These fats are supposedly full of Omega-3s, which are known for their potent anti-inflammatory properties. (Fun fact: snake oil used to be a remedy for not only hair and skin conditions, but also joint pain and swelling!)
But if animal welfare is one of your top concerns, you may actually be safe with snake oil! Like I said before, most "snake oils" are just oil-based moisturizers, and don't actually contain snake oil at all. But if you find snake oil that's the real deal (most commonly from Chinese water snakes or North American rattlesnakes), you may want to stay away, since the oil is harvested from their fat.
What oils are actually good for hair?
So hopefully you've concluded with me that snake oil for hair may not be the best solution to your mane's woes. I think the best advice for healthy hair comes from my mom: "Eat healthy and drink lots of water because there's no hair like healthy hair." And you can't fake healthy hair! But if you're looking for a little boost for your luscious locks, here are some recommendations!
1. Avocado: Avocados are known for being one of the best sources of good, healthy fats, and a major hair, skin, and nails health booster! It's also rich in vitamins A, D, and E, to promote hair strength and growth. Read more about it here.
2. Apricot: Like avocado oil, apricot oil is full of vitamins A and E, and also boasts powerful anti-inflammatory properties. It's also great for those who may have more sensitive skin. Use it in a healthy hair mask with other oils, recipe links here!
3. Argan: I can't sing the praises of argan oil enough. I've used the stuff as a moisturizer, a nail strengthener, in my hair, and for just about everything else! I use it because I live in a humid climate, and when I put it in my wet hair in the morning, it helps my hair not grow to ten times its size when I walk outside. I don't put it in my scalp (you may want to try it if you have drier skin than I do), but massaging it into the ends works wonders for me!
4. Essential oils: Essential oils are usually used with a carrier oil (like almond oil, jojoba oil, or even olive oil), and are great for treating everything from dandruff to psoriasis. Look here for some recommendations and links to recipes.
[Photo of woman from Shutterstock]