When you've had a long day and you're finally winding down for bedtime, the last thing you want to deal with is sticky makeup that refuses to budge. And while that waterproof mascara survived you and your coworker's cat video-induced laughing/crying attack earlier, you probably don't want it staying put while you slumber.
While traditional makeup remover wipes and cleansers may do the job, they are often full of all sorts of different chemicals that can be harsh on your skin. Instead of resorting to a quick fix that can hurt your skin long term, consider opting for a more natural alternative.
We've compiled a list of our favorite natural cleansers and wipes to quickly and effectively remove your face makeup. And if you don't think that getting off that makeup before bed matters, think again. Because as it turns out, not removing all that foundation, mascara, eyeliner, and shadow can lead to breakouts and even the development of fine lines.
Andalou Naturals Lash + Lid
This makeup remover from Andalou Naturals features vitamin C to make your skin feel awake and rejuvenated. Natural moisturizers like sunflower oil and aloe keep your skin soft and conditioned rather than dried out like many traditional makeup removers.
Something to note about this particular makeup remover, though, is that it is intended specifically for eyelash and eyelid makeup. If you wear foundation and concealer, you may need to choose a different product or use your face wash for that area instead.
Reviewers also reiterate that this is remover is ideal for eye makeup, but won't do much for full-face makeup. One reviewer mentions that this formula is gentle on her sensitive eyes but is still able to remove her waterproof mascara with ease.
Earth Science Chamomile & Green Tea Eye Makeup Remover
Featuring calming chamomile and energizing green tea, this eye makeup remover from Earth Science is available in both a single and two pack. The product is fragrance free and has hyaluronic acid which works to reduce wrinkles and redness.
This makeup remover is designed specifically for eye makeup and works best when applied to a cotton ball and used directly on your lids.
Reviewers mention that a little bit of this makeup remover goes a long way, though you may find yourself using more for waterproof mascara. Another reviewer mentioned that she was a bit turned off by the gel texture of this remover, but after a few uses, got used to it and found it to be especially gentle on her sensitive eyes.
We Love Eyes All Natural Tea Tree Eye Makeup Remover Oil
Featuring tea tree, jojoba, and grape seed oil, this all-natural eye makeup remover is developed by optometrists. A little goes a long way, and this single bottle is good for nearly 120 uses.
We Love Eyes makeup remover is vegan, cruelty-free, gluten-free, paraben-free, and sulfate-free without chemicals that can be harsh on your skin.
One reviewer mentioned that this formula was a bit too oily for her, though others mention that it's super gentle and removes waterproof mascara with ease.
Badger Unscented Cleansing Oil
Made out of soothing calendula, this cleansing oil from Badger is effective at removing all sorts of stubborn makeup. USDA certified organic and Leaping Bunny certified cruelty free, Badger is B Corp certified and all of their products are made in the U.S.
Sunflower, olive, castor, and apricot oil come together in this cleanser to replenish your skin with an assortment of vitamins, fatty acids, and lipids.
I've used Badger oil cleansers in the past and found they are excellent for makeup removal, especially on waterproof mascara and eyeliner. If you've never used an oil-based cleanser before, it may take some getting used to. Check out Badger's beginner's guide to oil cleansing to learn more about this method.
Reviewers mention that Badger's cleanser is good for both sensitive and dry skin and that it leaves their skin feeling moisturized and clean. One reviewer does mention, though, that it can be difficult to wash off the oil in the shower, and that it's best to wipe it with a wet cloth.
CLN&DRTY Makeup Remover Oil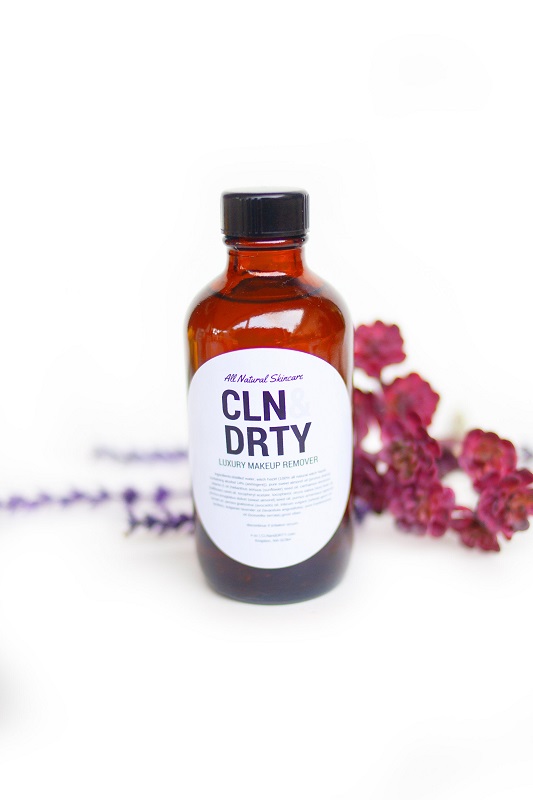 This makeup remover oil from CLN&DRTY is handmade and available in either a 2 or 4-ounce bottle. Featuring witch hazel, almond oil, and vitamin E, this makeup remover takes off eye makeup with ease while working to promote the reduction of wrinkles and fine lines.
Witch hazel works to balance the pH levels in your skin and leaves your skin feeling refreshed. Almond oil has beneficial antioxidants and minerals, while vitamin E moisturizes your skin. Lavender and frankincense oils are included as well to offer a pleasant scent to this remover.
One reviewer mentions that this makeup remover works like magic, even on waterproof makeup — despite her doubts that it wouldn't work well.
Moonrise Creek Cleansing Makeup Remover Oil
Available in lavender, sweet orange, and unscented, this makeup remover from Moonrise Creek is oil-based, leaving your skin makeup-free and hydrated.
Featuring coconut oil, sunflower oil, and apricot oil, Moonrise Creek's makeup remover goes on smooth and only requires a few drops to go a long way.
One reviewer mentioned that this was the first oil makeup remover she tried and was pleasantly surprised at how well it worked on even the most stubborn waterproof stuff. Another reviewer mentions that the scent of this remover is calming — perfect for a nighttime face routine.
Sunkissed Botanics Makeup Remover
Made out of a variety of oils like apricot kernel and coconut, Sunkissed Botanics makeup remover is handcrafted in California and comes in a 1-ounce glass bottle that will last for 1 to 2 months.
This makeup remover doubles as a cleansing oil: cleaning out your pores, softening your skin, and removing dirt and grime along with makeup. The glass bottle is eco-friendly and reusable, so you can feel good about buying a product that's plastic-free.
Reviewers keep it short and sweet, mentioning that this makeup remover works well and smells great!