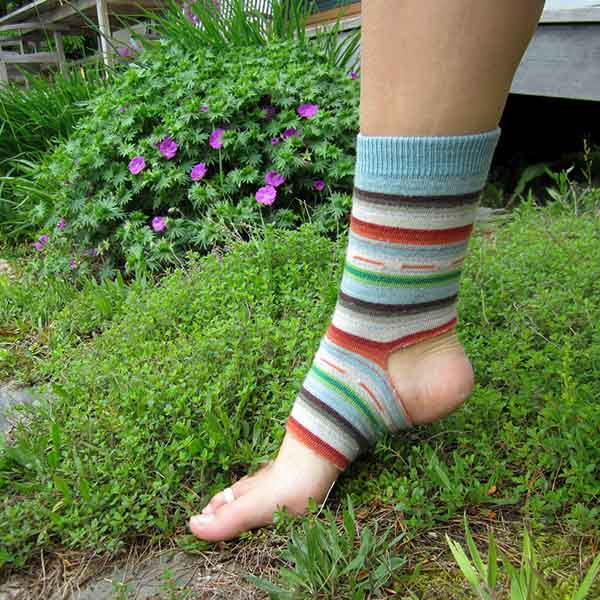 Turn an old pair of socks into cozy yoga socks. You don't need sewing, knitting, or crochet skills to make these heelless, no-toe socks for yoga.
Related: Deconstructed Downward Facing Dog Pose, 3 Yoga for Beginners Videos
It's starting to get chilly out – is the cold messing with your yoga routine a bit? I have a hard time focusing on my breathing when my feet are freezing. It's tough to do yoga in regular socks, because you end up slipping and sliding all over your mat. Regular socks also prevent you from feeling your feet in contact with the mat or the floor, which is important for standing or balancing poses. Yoga socks are open at the toe and heel, so they give you a little bit of warmth while still letting you feel grounded.
I love this tutorial for homemade yoga socks from Hew & Sew, because I don't know how to knit or crochet. It's also a great way to extend the life of a pair of socks that are worn out in the toe or the heel. My socks always get holes in the toes, so I'm pretty sure I can raid my dresser today and make some DIY yoga socks!
Make Yoga Socks from Regular Socks
Materials
+ old pair of socks with a worn out heel or toe
+ fabric scissors
That's it! You can check out process photos over at Hew & Sew and get her bonus tutorial for turning old socks into a pair of wristwarmers!
Note
The Hew & Sew tutorial doesn't require any sewing, but depending on what your socks are made of, they may unravel over time if you don't sew them. If you'd like to sew your yoga socks, I'd recommend using your sewing machine's zig zag stitch or hand-sewing a whip stitch on those unfinished edges to make your yoga socks last.