What's more iconic than a pair of really cool Nike shoes? Not much. The brand has maintained its posture in the vast array of footwear over the decades, and continues to clean up its act when it comes to sweatshops and sustainability issues. Now, French artist Christophe Guinet  aka "Mr. Plant" has taken Nike shoes to another realm of coolness.
Dig this: His latest project 'Just Grow It' is cultivating "sneaker-shaped vegetable and plant-based sculptures," reports Design Boom. "The sneakers, signifying cult products of urban youth, are transformed into compositions made from rocks, poppies, seeds, flower petals and wood."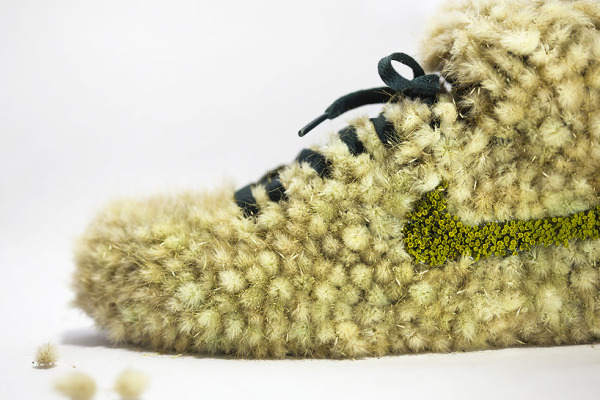 They're simply stunning, assembled with "patience and with remarkable dexterity, the plant shoes are rendered in a hyper-realistic state, with every facet of the sneaker from the sole to the swoosh pieced together with the environmental materials," Design Boom explains. "The project asks the viewer to rediscover the beauty in nature, not just in manufacturing."
According Guinet's website, while he was born in Paris, he maintained a relationship "between town and country, always keeping in touch with nature," where he eventually "developed a passion for plants, especially the cultivation of orchids: attracted by their exacting needs and rewarded by the beauty and delicacy of their flowers."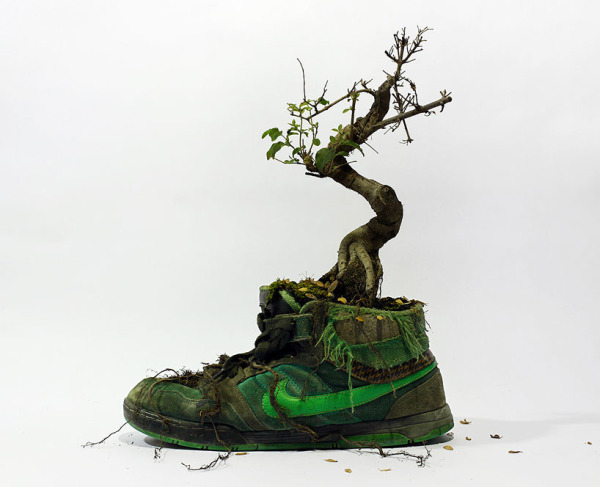 His work is pretty reflective of his love for nature and his urban upbringing in a hipster/shaman/chic way, delivering a healthy dose of "oh yeah, nature."
While the super cool Nike shoes created by Guinet aren't wearable, they're an excellent reminder that there are compostable shoes on the market. And if it isn't a subtle nudge to Nike to develop it's own pair of compostable kicks, I don't know what is. Either way, Guinet's Nikes are a lot of fun to look at. They certainly should inspire you to put on your own shoes and head out for a hike really soon.
Images via  epiphytegarden