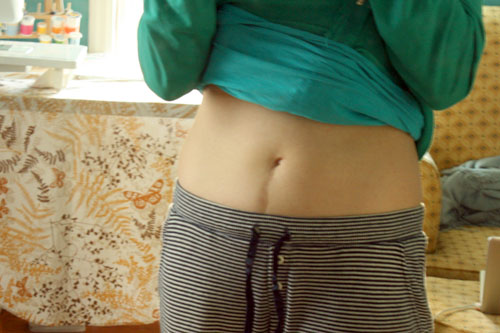 XOJane was tired of the impossibly thin supermodels in magazines with unattainable bodies. She put out a call to readers asking them to send in photos of their real girl bellies and one thing that they liked about them. The response was overwhelming, and she has so far published two galleries of real girl bellies.
Projects like this and the outpouring of notes and comments about the Lizzie Miller photo in September's issue of Glamour speak to a shift in attitude about what the ideal woman looks like. Women are not coat hangers, and I think that more and more women are tired of seeing clothing on bodies that are unhealthily skinny.
I dug the Real Girl Belly Project so much that I decided to share my own real girl belly here. That's it at the top of this post, and the thing I love about my belly is the scar that starts right under my belly button. It reminds me of how lucky I am to be here. Full disclosure: I did Photoshop my photo to color correct it, since I forgot to white balance properly before taking it. No touch-ups or special effects, just lightening it up and making things less blue.
What do you guys think about the Real Girl Belly Project? I found it so inspiring!