Spring is just a couple of weeks away, and we've got you covered with spring date ideas for the eco-conscious couple.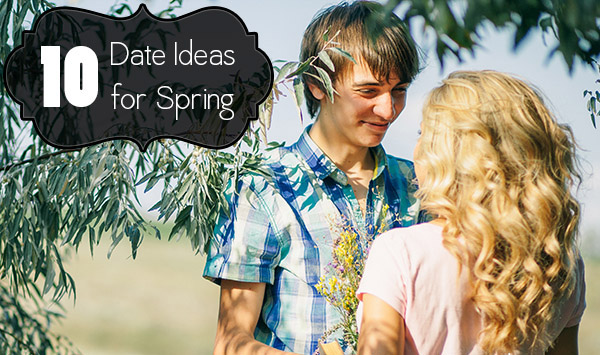 Spring is a time of love and renewal, so how will you strengthen your romantic ties? The conventional couple dines out at a fancy restaurant and gives each other lavish gifts of jewelry, fine clothing, and other material delights. If you could reclaim the romantic date to fit your own values, what might that look like?
Here are 10 spring date ideas sure to lower your impact while still turning up the heat.
10 Date Ideas for Spring
1. Play Board Games. There are tons of great board games available for 2+ people. Aside from the classics like Chess, Checkers, Monopoly and Life, you can try out some other varieties like Killer Bunnies, Carcassonne, or Mancala. If you want to up the love potential, play your board game with a dirty twist such as strip-style or simply playing naked.
2. Cook Dinner Together. Cooking a meal and enjoying it together is a great bonding experience. Use organic ingredients, and throw in a bottle of biodynamic wine. Light up some nice beeswax candles, play some soft tunes, and you've got the beginnings of a great evening.
3. Take a Trip to the Local Organic Farm. Organic farms are an incredibly nurturing place of growth and renewal. Working with the soil and plants is like growing your own collective garden of love. Volunteer together on a farm and soak in the lovely connection to nature. Talk about how great organic farming is and bond over the wonderful shared experience.
4. Go Stargazing. If there's an observatory near you, chances are there's free stargazing opportunities. They may have public star parties or telescopes. There's something extra special about seeing baby stars together.
5. Walk to the Farmer's Market. Walking together is a great time to get to know each other and have deeper conversations. The farmer's market is a connecting and nurturing place where you can both feel comfortable and supported. After the Farmer's Market, cook a meal together.
6. Have Your Own Earth Hour. Turn off your computers, TV's, and other electronics. Light some candles, and snuggle together to keep warm, or cool off with some icy cold drinks. Foster a real-life natural relationship instead of a virtual one.
7. Make Your Own Gifts. Instead of buying jewelry mined from questionable sources, make something for your lover. Make your own card, write a love poem, or bake some cupcakes.
8. Have a Massage Night. Get out your scented oils, light some beeswax candles, and treat your partner to a loving and soothing massage. Receive one in return. Have a glass of wine and get cozy.
9. Have a Picnic. Pack up your favorite sandwiches in a reusable container, grab a bottle of wine, real silverware, and cloth napkins, and take it to the park. Enjoy the good vibes Nature offers and bring some games to play while you're there. When the picnic is over, don't forget to reuse and recycle!
10. Make Something Together. If you both have a knack for DIY, then get crafty! If you're not so crafty, make your own kiddie art with finger paint and glue sticks.
What date ideas would you add? Which of these are you looking forward to trying out?
Image Credit: Date Ideas image via Shutterstock