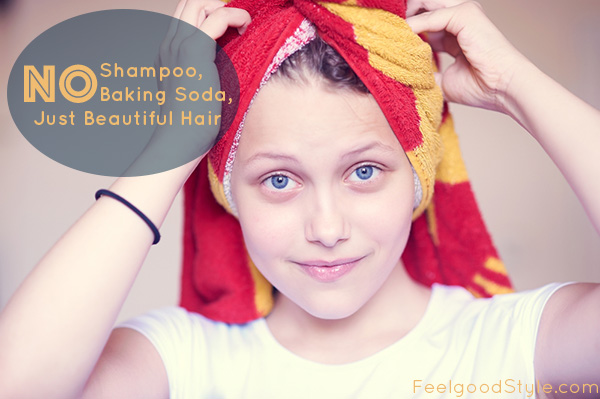 No 'poo is a no shampoo method for keeping your hair healthy and clean, but not all hair responds well to baking soda. Here's a different way to do no 'poo.
The idea behind the no shampoo method of hair care is that traditional shampoos strip oil from your hair and scalp, causing your body to overproduce oil. I've been washing my hair without shampoo for four or five years now , and one of my favorite benefits is that I don't have to wash my hair every day.
I'd read some horror stories about women who started using baking soda instead of shampoo and ruined their hair. I considered those stories a head-scratcher for years. Until I got pregnant, and suddenly my precious no shampoo routine stopped working.
My hair looked dirty all the time, even right after I washed it. I developed terrible dandruff. My scalp itched. It was awful. Maybe it had to do with pregnancy hormones? Pregnancy can change your hair quite a bit, so it makes sense that my no poo problems started while I was pregnany.
There was no way, though, that I was going back to washing my hair daily or even every other day with shampoo. After years of no poo, I was spoiled, and I wasn't going to let this snag make my beauty routine more labor-intensive.
Instead of switching to shampoo, I did some research. You've probably seen the pricey no shampoo products on store shelves lately. Spending big bucks on a bottle was also not something I was going to do. I wanted to keep doing the no poo thing, and I wanted it to be affordable. Luckily, my stubbornness paid off.
No Shampoo, No Baking Soda
After lots of googling, I discovered that folks were having good results using castile soap – like Dr. Bronner's – in place of shampoo. Castile soap is less harsh than commercial shampoos. It's also super affordable. $19 for 32 ounces might not seem affordable, but remember that a tiny amount of castile soap goes a long way. A 32 ounce bottle lasts me months, since I only use a pea-sized amount twice a week to wash my hair.
I made the switch from baking soda to Dr. Bronner's just over two years ago, and guys. My hair is awesome. No more dandruff, and it's manageable for days after washing. If your hair is on the dry side, you can follow up with your favorite organic conditioner, but I've been able to get away with just using Dr. Bronner's and nothing else.
Have you had to replace the baking soda in your no shampoo routine? I'd love to hear what you did and how it worked for you!
Woman photo via Shutterstock.