Reusable makeup brushes are eco-friendly, save you money, and are key to the perfect look. But when you use them a lot, makeup builds up on your brushes. And dirty brushes means breakouts, irritated skin, and really, a dirty face. Not to mention these other gross things that happen when you don't clean your brushes.
Now before you take harsh soaps and chemicals to your brushes, consider that whatever gets on your brushes with ultimately end up on your face. Always choose a cleanser meant for your brushes, with ingredients that will be kind to that precious face of yours.
And of course, choosing a product that is environmentally friendly and natural is important, too. We found the best natural makeup brush cleaners on Amazon and Etsy. When selecting products, we focused on whether or not they were vegan and cruelty-free certified and list the ingredients in the product. Many of these options have 10 or fewer ingredients and are from naturally derived sources.
The Best Makeup Brush Cleaners On Amazon
EcoTools Makeup Brush Shampoo
Estimated Price: $8
Famous for their eco-friendly brushes, EcoTools knows what makes a good brush cleanser. Intended for a weekly deep clean, this makeup brush shampoo is PETA cruelty-free certified and made with plant-based ingredients.
Free of parabens, phthalates, petroleum, and perfume, there isn't any chemical gunk that will end up on your face. The formula conditions while it cleans, leaving your brushes as soft and clean as the day you bought them. All EcoTools packaging is made of 100% tree-free paper, so you can feel good about the product you've chosen.
One Amazon reviewer mentioned that this cleanser cleaned off 6 years worth of makeup from her brushes in 30 seconds! Talk about a quick bang for your buck!
---
EcoTools Makeup Brush Cleansing Cloths
Estimated Price: $7
Another option from EcoTools, these cleansing cloths are for daily cleansing after you use your makeup brushes for the day.
The cloths themselves are made with Forest Stewardship Council certified material and are dermatologist-tested.
As for the formula itself, the cleaner is free of parabens, phthalates, sulfates and petroleum.
And rather than leaving an oily residue on your brushes, they are left soft, clean, and ready to use the next day. As with the other EcoTools option, these cloths are also PETA cruelty-free certified.
---
Aesthetica Makeup Brush Cleaner
Estimated Price: $10
Vegan and leaping bunny cruelty-free certified, this makeup brush cleaner from Aesthetica features a light, mild formula that won't cause breakouts or irritation.
The 6-ounce bottle lasts between 4-6 months with regular use and is formulated to break through grease and grime.
Paraben and gluten free, reviewers mention that the fragrance is light and pleasant and the consistency isn't too thick or too thin.
---
Benjabelle Brush Shampoo
Estimated Price: $15
With only seven ingredients, this is one of the simpler formulas on this list.
That being said, this Benjabelle brush shampoo doesn't lack in quality. Made from all organic ingredients, reviewers rave that their brushes were left thoroughly clean.
Free of animal byproducts, artificial colors, fragrances, and alcohol, this brush shampoo contains organic coconut and jojoba oil to condition your brushes as they're cleaned.
With a light scent and ingredients that you can actually pronounce, this shampoo is available in both an 8-ounce and a 16-ounce size.
---
The Best Makeup Brush Cleaners On Etsy

Sudbilly Beauty Brush Blaster
Estimated Price: $16
Featuring a formula that won't dry out or harm your brush's bristles, this Beauty Brush Blaster from Sudbilly is a solid soap option.
Made with Aloe vera and argan oil to promote extra conditioning, your brushes will be left soft and ready to take on your next look.
Handmade with only four ingredients, you can't get more natural than this cleanser.
---
Bloom Organics Solid Brush Cleanser
Estimated Price: $14
Available in three different scents and two different sizes, this brush cleanser is an all-natural solid soap option.
Organic and leaping bunny cruelty-free certified, you can rest easy knowing you're using a cleanser that is both environmentally and animal-friendly.
Tea tree essential oil is included for its antimicrobial properties and shea butter encourages soft, conditioned brushes. As with the previous cleanser, this one is also handmade.
---
Urban Oreganics Brush Cleaner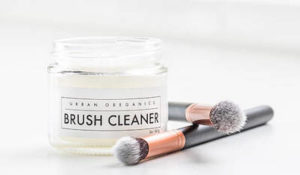 Estimated Price: $26
Vegan, organic, and all-natural, this makeup brush cleaner features five simple ingredients: organic pure coconut oil, distilled water, organic jojoba oil, sea salt, and organic olive oil. One Etsy reviewer mentions that this formula worked well on both her high-end and lower-end brushes, leaving them all moisturized and clean.
And as a bonus, the seller recommends using this cleanser on your face as a light facial cleanser, too! Handmade in Portland, Oregon, these products are created in small batches and can certainly compete with the higher-end options out there.
---
Clean Haven Naturals Foaming Makeup Brush Cleaner
Estimated Price: $8
What I like about this brush cleaner is that you have a few different essential oil blends to choose from. You have the option of sweet orange, lavender geranium, or grapefruit. This cleaner is foaming and the formula includes natural soap and distilled water along with the essential oils.
Preserved with a natural, paraben-free moisturizing preservative, this cleanser will maintain its quality throughout the life of the product. The bottle and pump themselves are made from BPA-free plastic.