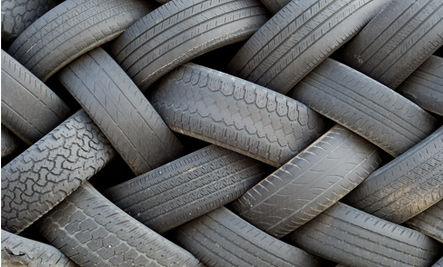 According to some estimates, about 1 BILLION tires end up in landfills or in recycling centers every year . Yikes! About 25% go to landfills and half of the recovered/so-called recycled tires are burned along with coal as TDF (Tire Derived Fuel). This is not good . . . If you've ever smelled a burning pile of tires, it smells noxious and indeed it is. Burning tires emit toxic pollution that contains goodies like; benzene (carcinogen), lead, butadiene (central nervous system damage, carcinogen), styrene (potential carcinogen), dioxin and other nasty stuff.
So, it would seem like a great idea to find ways to safely recycle, upcycle, reuse and repurpose tires, right?
See Green Diva Mizar's post, After the Rubber Hits the Road: Creative Uses for Old Tires, for some great DIY and ideas beyond my awesome bag.
Yes, I am sometimes called an eco-bag lady. From the seemingly endless variety of re-usuable shopping bags to my fun collection of purses and accessories made from up-cycled and sustainable materials.
While I'm still got our recent Detroit road trip in my head, I figured it might be fun to talk about a couple of my favorite bags that are made from retired car accessories and driving-related materials like old billboard vinyl.
The bags in this picture are among my favorite eco-road-warrior bags
English Retreads: The little black one in the upper left is my go-to purse that I've been using since 2008. It is made primarily from old tire inner tubes. It is sturdy as hell and surprisingly does not smell at all. I expected it to,but nope. It was a particular hit in Detroit.
Vy & Elle: One of my favorite computer messenger bags is the big one underneath by Vy & Elle, which unfortunately doesn't exist anymore. It is made from old billboard vinyl and uses an old GM seatbelt as a clasp.
Billboards literally litter our highways and most of them change monthly – THAT is a lot of vinyl headed for landfills. Remember vinyl, being a type of plastic doesn't biodegrade, so it is a GREAT thing to find ways to reuse it and extend its life.
GG2G: Another one of my favorite bags – the lovingly used one on the right with all the pins on the strap – is also made of old billboards. GG2G is an innovative fashion accessory company up in Connecticut that made these for us for a special project for NYU. I've been using this for trade shows and similar events, including when we were VIP media sponsors for Farm Aid back in 2007. This bag has seen a lot of run road with this Green Diva!