We introduced you to the all new subscription natural beauty box, True Beauty Box by Love True Natural, a couple of weeks ago.  Each month I will share a close up look at a few of the products that arrive in my monthly box.  Want your own box?  Fill out their nifty personal profile quiz, choose your personality (mine is Purely Pretty), and you too will have luscious natural beauty samples delivered to your door monthly.  Hurray!
Do you have a favorite mascara?  I do.  And it was pretty exciting to see it show up in last month's True Beauty Box.
Lavera mascaras (yes all of them) have long been my top pick for natural mascara.  Why?  Because they go on smooth, deliver silky color, and don't flake or rub off onto eye shadow.  This goes for Lavera Long-Lash Mascara too, of course.  You never have to worry about a cakey, gunky mascara if you use Lavera.  Hey, that should be their new jingle.
Long-Lash lends silky black color while adding some length, and just plain oomph, to lashes.  Go for an all natural lash with one coat, or apply 2-3 coats for glam effect.  Check out Lavera's other great mascaras as well.
Mascara has always been my go-to makeup item.  It makes you look instantly awake and pretty.  After years and years of using a certain pink and green bottle of mascara, it wasn't until I switched to nontoxic mascara that I realized that slightly itchy sensation comes from the nasty chemicals used in conventional mascaras.  Not only are Lavera mascaras completely nontoxic and healthy, but they wear just like top of the line mainstream mascaras.  Love them.
The perfect little compliment to the lovely black mascara also came with last month's box, a pretty Benecos Lipstick in Peach.  Admittedly, I am a lipgloss gal and usually do not wear lipstick.  But this lipstick is super smooth, almost balm-like, and sheer enough to offer a hit of color without being too much.  Plus, this is no orange-y peach, but a natural pinky peach, so looks great with Benecos Natural Lipliner in Pink (which also came in the box, btw).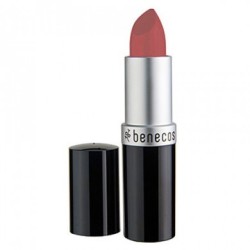 What I love about Benecos is that the products are super reasonably priced, but perform like higher end products.  Can't beat that.
The latest True Beauty Box has arrived and, let me tell you, it rocks.  Can't wait to share it with you in February.  Stay tuned!
Have questions about True Beauty Box or any of the Love True Natural brands?  Please leave a comment below, or email me at [email protected],  and I will point you in the right direction.
This post is supported by Love True Natural.