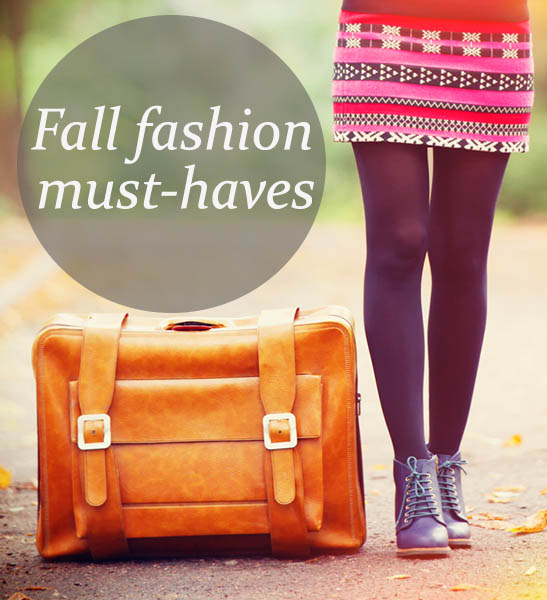 We've previously written on the importance of embracing enduring trends, and fortunately the fall 2015 must haves of the season can fit into your "enduring" wardrobe seamlessly. See below for a roundup of some newer trends for the season, with some continuing trends that we may still see going into spring!
1. Shoulder-baring tops
Go figure- summer is on the way out and fashion wants to embrace shoulder-baring styles. This top by Kristinit is awesome because it's chambray (an always classic and reliable hue!) and it cinches in a little around the collarbone, which elongates the arms and is oh-so-flattering. But this is just one style of blouse- another trendy option is the uber-popular off-the-shoulder style too!
2. Nature prints
I'm calling this one "nature prints" because "florals" just didn't encompass enough! The skirt above is an organic cotton pencil skirt in a gorgeous leaf print, found on People Tree. Not only is this a pencil skirt (which is always a reliable staple), but it's surprisingly demure despite the loudness of the print- that means you have more options when it comes to styling. Natural patterns (think: leaves, flowers, birds, etc.) were very popular on runways last week, which could continue as a major trend as we head into fall… and then even into spring!
3. Burgundy
My love affair with burgundy goes way back. (See here and here for more on my favorite burgundy nail polishes!). With the frequency that I've seen it on runways and in stores recently, it's looking like burgundy is the new black- or at least it's on its way to being a staple color choice for fall. And it's everywhere, which makes this an even easier trend to embrace. You can find this burgundy shade from Priti NYC over here.
4. Long coats
A practical trend I can definitely get behind. These coats are great for layering, especially when the weather starts cooling down. This coat is by Nau, and it's water repellant! Everything on the inside and outside is sustainably made with recycled organic materials. Another benefit- it's super versatile with a snap-off collar.
5. Faux fur
Once again, fur was a major trend this season, which is kind of a drag. But for those of us who embrace the more animal-friendly version of this trend, we have a bunch of options! Especially since real fur costs so much more than the faux varieties, this one will be easy to embrace in a PETA-friendly and wallet-friendly way. The one pictured is a faux fur vest by BB Dakota, which is a neutral blend of black and brown to suit all your styling needs!
6. Simple, elegant slip dresses
These are great for layering. They'll keep you cool during the remainder of summer's hot days, and once the weather gets colder, you can pair them with sleek black pants for an edgy but still girly look. The one above by Jita Wear is perfect- it's in a basic white (White after Labor Day? Pfft, who cares!) and has a loose fit for maximum versatility. It's also made of organic hemp and it's allergy friendly, which is a rare feature for clothing to boast!
7. Tailored jackets
Dressy jackets can work for your wardrobe in a lot of different ways- from a slim-fitting, long tuxedo jacket, to something shorter and cropped- this is another trend that will be a breeze to adopt! The one above is by People Tree, and it's made out of organic cotton. No matter what style you get, make sure it's tailored to fit you, and it will give you a chic silhouette for any occasion.
8. Sparkle and shine
I saved the best for last! Given my penchant for shiny things, I couldn't help but want to get behind this trend! The easiest way to incorporate something like this, since it's more of a "loud" item, would be through something subtle. Think: jewelry or nail polish, especially if this is a trend you'd want to wear to the office- you might want to just ease into it! This sweet pink shade by Zoya is on the lighter side, but just sparkly enough to add a little something extra. And of course, Zoya is free of all the harmful checmicals found in conventional nail polishes.
Photo of bag and boots from Shutterstock