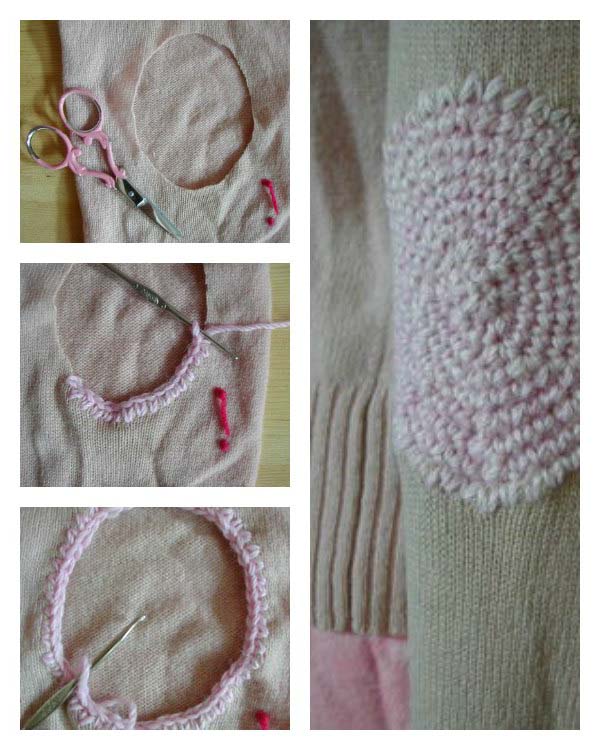 Whether you're shopping second hand or trying to mend instead of replace, patching holes can be a little bit tricky. Here's how to mend clothes with crochet instead of unsightly fabric patches.
If you're trying to kick fast fashion to the curb, making the clothes in your closet last is important. A lot of tricks to repair damaged clothes are invisible, but sometimes you get a stain or tear that you can't repair invisibly. Over at our sister site Crafting a Green World, I shared this cool mending technique from Craft Stylish user CalPatch, and it's perfect for fixing any knits in your wardrobe that have worn spots, tears, or stains.
For tears, you can dive right in. If you're patching a worn spot or stain, you'll just trim the damaged part away before adding your crochet patch.
How to Mend Clothes with Crochet
To make a crochet patch, you only need a few basic supplies:
+knit garment, like a cardigan, with a hole in it
+ yarn that coordinates or contrasts with your torn garment (depending on whether you want the repair to just show a little or be the star of the show)
+ fabric scissors
You guys, that's it! Less than a handful of supplies. To get CalPatch's step-by-step, head over to Craft Stylish for the complete tutorial.