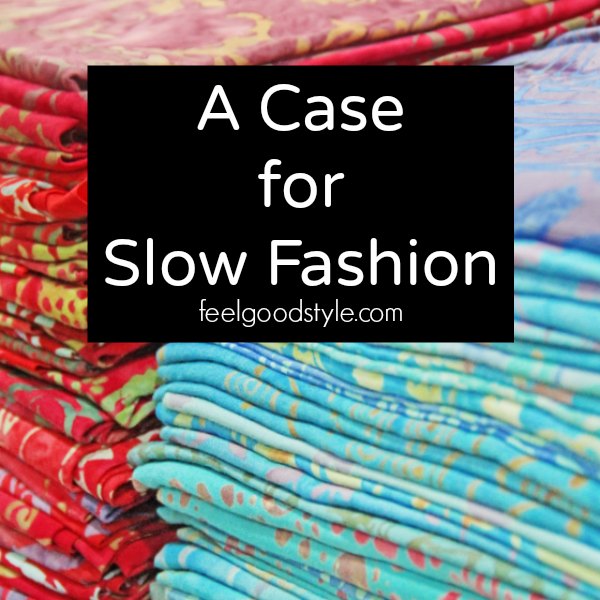 What if instead of replacing our clothes season after season we chose timeless, heirloom pieces to build a sustainable wardrobe? That's the philosophy behind slow fashion.
Fashion is so often portrayed as a fast-paced, ever-changing parade of trend after trend. But does it have to be that way? Fast fashion stores have made it easy to toss our old clothes and replace them with new ones every season. It's a waste of resources that's polluting our waterways and hurting workers. Maybe it's time for us to slow it down and take a look at our fashion values.
I'm as guilty as anyone of indulging in this practice. I appreciate the slow fashion philosophy but at the same time feel pressure to have a wardrobe that's on trend.
Textile and clothing PhD Keila Tyner recently wrote a piece for Quartz outlining the rise of fast fashion and advocating us to embrace slow fashion. It's a worthwhile read, and I hope you'll take a few minutes to head over and check it out!
Tyner brings up clothing donation, and I'm so glad that she did! Donating clothing is definitely better than sending it to the landfill, but what happens to the clothes that we put into those donation boxes? She links to a book excerpt that gives a shocking peek into the clothing donation process that's incredibly eye-opening. If you don't have time to read the whole piece, check out the section about the rag room.
Slow Fashion: How Does it Work?
The idea of slow fashion is choosing a few high quality garments over a closet full of cheap ones. Instead of 2-3 pairs of cheap jeans, go for one pair that's going to last you for years rather then months.
Tyner doesn't talk about this in her piece, but I think using what you have is an important part of slow fashion. We need to look at our wardrobes in a different way. Instead of getting rid of last season's clothing, could you alter or repair it to last longer? Check out my post over at Crafting a Green World on ways to refashion your wardrobe.
If you're not a good seamstress or don't have time to do your own refashioning, you can find a seamstress to do the work for you. Ask around! A good seamstress can take clothing in our out for you, shorten or lengthen pants and skirts or do a ton of other little alterations to make your old clothing new again.
I'd love to hear from y'all! Have you been trying to give fast fashion the (ethical, sustainable) boot? Tell me your favorite ways to embrace slow fashion in the comments!
Image Credit: scarves photo via Shutterstock