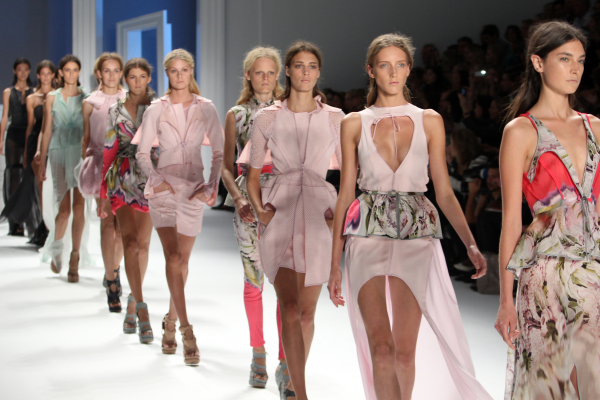 The majority of 2014's major fashion industry campaigns had one thing in common: white girls. Lots of them.
There's nothing inherently wrong with white girls (I'm one myself). After all, we don't get to choose our race. But the overarching presence of white women in fashion campaigns is very much in line with our nation's other ongoing issues surrounding race.
A whopping 86 percent of models represented in 730 ad campaigns in 2014 were white, according to Refinery29: "Here's how that figure compares to reality: According to 2012 census data, the United States is approximately 72% white. When you're looking at the whole world, 12% of the population is white (60% is Asian, and 14% is Black). Of course, fashion advertisements play to people who occupy a certain income bracket and geographic location, but 86% is still a lopsided skew; only one of the 10 most-booked models isn't white — Chinese model Liu Wen."
Some companies have begun including "real" people in promotions. DKNY and Marc by Marc Jacobs are two examples, and that's certainly a great start. Maybe, though, our representations of fashion and beauty will begin to change when we make more serious efforts to bring more transparency to the fashion industry in general. While our representation of fashion appears to be white, there's a very slim chance your clothes weren't made by a person of color in the developing world. In some cases, that person may even be a child.
Fashion can be a sustainable and ethical industry leading us towards a brighter future both for the health of the planet and for the health of our self-image. But it's going to require that we accept, acknowledge and celebrate the many colors of women (and men) making our clothes in the first place. It's going to take a revolution in an inherently excessive industry to make green fashion less elite and more mainstream. It's going to require that we begin to see beauty in all of us, whether we're white and six-feet tall or brown and five-feet tall.
Should we let fashion magazines and ads dreamed up by a few marketing companies dictate what beauty is? The same marketing forces telling us beauty is only a tall, slender white woman is doing the same for the entire fashion industry–glossing over the reality that many people making our clothes make less than a $1 per hour for their work. In China, where the textile industry produces more than 41 million tons of fiber (about half of the world's total production), more than 3 billion tons of soot is released into the air and more than 300,000 tons of COD pollution. More than 200 tons of water can be used for each fabric dyed in a factory, with those toxic dyes winding up in the waterways, polluting otherwise fresh water. Cotton, our beloved fiber is the most insecticide intensive crop and much of it is now genetically modified.
So while it's in no way a suggestion that white models aren't beautiful or worthy, we still must ask ourselves this: if our perception of fashion doesn't change on the runways, magazines and on the billboards, how is it ever going to change in the rest of the supply chain?
Models image via Shutterstock