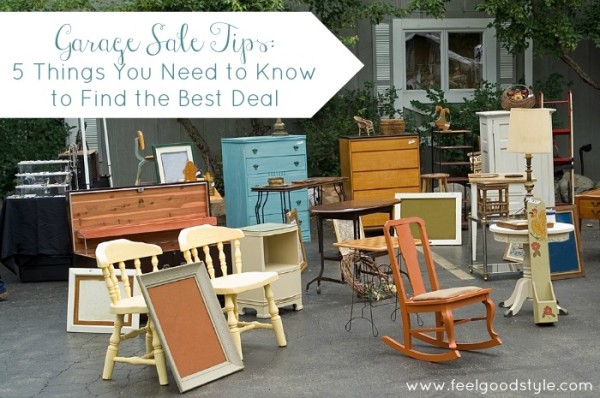 Garage sale season is here! Here are 5 garage sale tips that you need to know to find the best deal!
After a winter that seemed like it would never end, garage sale season has finally arrived! I'm pretty passionate about garage sales and buying second hand, so I thought this would be the perfect time to share my garage sale tips and tricks!
1. Make a plan
Use local newspapers, Craigslist, or even a garage sale app to find garage sales in your area. Then, make a plan for where you should go first. You don't want to waste gas or time by simply driving around and hoping to stumble upon a garage sale. I like to look at ads online to see what kinds of items they have at different garage sales. If a sale has a lot of furniture, I'm probably going to go there first. Determine what you're looking for, and try to find sales that will have those items.
2. Know your stuff
Sometimes people don't know the value of what they're selling, and sometimes they do. I like to keep my phone with me so I can look up different makers and manufacturers. With a quick search, I can find the value of an item. This helps me know whether I'm getting a great deal or if I'm about to overpay. Not only is this helpful for furniture, but if you're into vintage clothes, this can help you determine which brands are worth the extra dough. You can research vintage jewelry, too!
3. Don't be afraid to negotiate
Have a strict budget? Think you're overpaying for that piece of furniture? Don't be afraid to ask for a better price! Most of the time, I've found that people are willing to work with you. They're having a garage sale because they want to get rid of their items, and they don't want to bring them back inside — so ask! Just remember, don't offend the seller by aiming too low. If they don't want to move on the price, give them your name and number in case the item is still available at the end of the day. Chances are, if it's still there, they'll lower the price.
4. Remember the power of paint
If a piece of furniture is within your budget, but is super ugly, remember the power of paint! If a piece has good bones, the rest can be revamped! I've completed lots of DIY furniture makeover projects and I've never had a piece that was beyond repair. Ugly stains inside the drawers? Line the drawers with recycled paper. Have a table top that seems hopeless? Cover the table top with sheet music! The same goes for an item that has ugly fabric — you can easily reupholster it!
5. Make sure you really need it
The last thing you want to do is buy something that you don't really need. Often times I redo and sell the items that I buy so I ask myself: "Am I going to use this? Is this sellable? Can I make a profit? Is this important to me?" My budget is limited, so I don't want to waste my money on items that I'm not passionate about. You shouldn't either!
Do you like to garage sale? What are your tips to find the best deals? Share your tips with us in the comment section below!
[Photo credit: Suburban flea market via Shutterstock; text added]