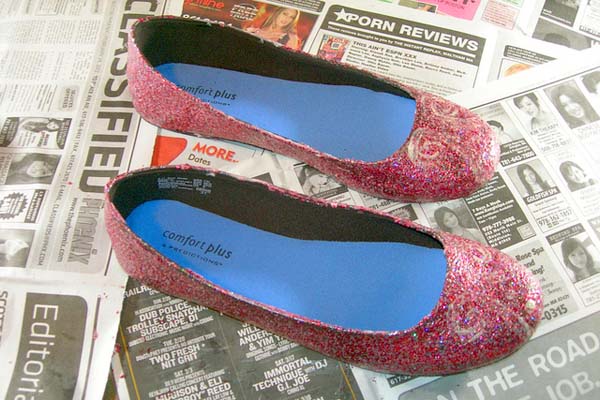 So, after Maria's roundup last week of DIY shoe refashions, have you hit the thrift store for shoes to alter?
If the thing that's holding you back is the ick factor, ick no more! It might seem gross to wear second hand shoes – especially styles that don't call for socks – but armed with the right cleaning products, you can wear your thrifted shoes without worrying about picking up some nasty foot fungus. I've been wearing second hand shoes for years, even ballet flats, and so far this method has worked for me!
How to Clean Shoes from the Thrift Store
Materials
pair of thrifted shoes
damp rag or two
1 ounce squirt bottle with 20 drops of tea tree oil topped off with rubbing alcohol or grain alcohol
1. Use a damp cloth to wipe down the inside and outside of the shoe. You want to get any excess gunk off of there.
2. Spritz the insides of thrifted shoes with rubbing alcohol/tea tree oil mixture. Tea tree is a natural antiseptic, and alcohol has antiseptic properties, too. Spritz like crazy then let them dry completely.
That's it! Once they're totally dry, those thrifted shoes should be as clean and good as new!
Image Credit: Creative Commons photo by qarylla