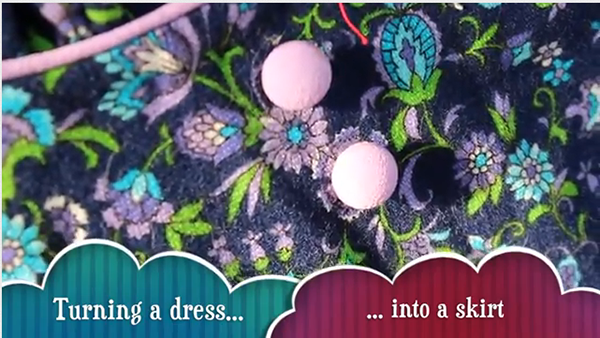 Have you ever been at the thrift store and found a mumu or dress that's got beautiful fabric and a vaguely nice shape, but is kinf of…well…frumpy? Instead of passing over that diamond in the rough, you can turn it into a cute, wearable skirt!
In this cute, funny video Sarah shows you how to transform that ill-fitting dress into a cute skirt with just a few supplies and beginner sewing skills. All you need to make your skirt are:
A thrifted dress – or one from your closet – that doesn't fit you
fabric scissors
elastic, or the old elastic waistband from a skirt that does fit you but maybe has a hole or a stain
sewing machine, thread, pins
She ends up with some wonkiness, that I think you could easily avoid if you cut your elastic skirt top so it's straight all the way around. When you're pinning your skirt bottom to the skirt top, they may also not be the same width around. That's ok! While you're pinning, arrange them so the gathers are pretty even, and your finished product should look nice and tailored.
Note: If you don't have an elastic wasitband to use, don't worry! It's so easy to add the elastic waist yourself. Measure out enough elastic so that it snugly fits your waist. Then just fold the top of the skirt inwards by 1/2″ and sew almost all of the way around, leaving about a 2″ opening. Feed your elastic through (a safety pin will help!), and sew the ends together, then use your machine to finish sewing that 2″ opening closed. Voila! If you need more details, I have detailed instructions along with photos on this skirt tutorial over at Glue and Glitter.
Have you guys made any fun, upcycled clothing lately? I'd love to see what you're making in the comments!
Image Credit: Screenshot from the video