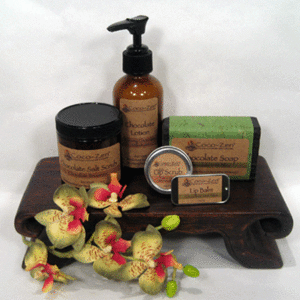 Chocolate is a wonderful thing and Coco-Zen has found a way to transform chocolate into a religious experience. "Coco-Zen is a state of nirvana achieved by surrendering to the taste and aroma of luscious, rich chocolate…A state of ecstasy, peace and harmony. Coco-Zen is oneness with chocolate." Wow.
In addition to Coco-Zen's Organic and  Fair Trade Chocolate treats and truffles they have these amazing bath and body products that are truly indulgent chocolate luxuries.
The Head to Toe Chocolate Body Gift Set contains one of each of their bath and body products:
Chocolate Edible Lip Scrub (in Chocolate Brown Sugar) – .5oz recyclable metal screw-top tin
Chocolate Lip Balm (in Chocolate Mint Bliss) – .25oz recyclable metal slide tin
Chocolate Salt Scrub (in Chocolate Brownies) – 4oz amber glass jar
Chocolate Soap (in Chocolate Mint Bliss) – individually wrapped bar
Chocolate Lotion (in Chocolate Milkshake) – 4oz amber glass jar with pump
I had the chance to try each one of these chocolate delights and I am in cocoa heaven.
My absolute favorite is the lip scrub…why? Because it is edible. Chocolate and brown sugar scrubby stuff that tastes absolutely sinful. You'll want a whole jar of it not a tiny little tin. And the Chocolate Mint Bliss lip balm…hmmm my lips have a delightful minty chocolate tingle going on right now.
Then there's the bath stuff…the soap smells like chocolate chip mint ice cream and the salt scrub has a brownie, brown sugar aroma to it and the lotion…yummy. I felt like a walking chocolate bakery after using all the products. The only bad thing is that it made me crave chocolate…more than usual. The good thing the products left my skin soft and smooth and smelling like chocolate. I could think of worse things to smell like.
Another great thing about Coco-Zen? They believe in Fair Trade and Eco-Friendly Business Practices, most of their ingredients are fair trade and/or organic.