We all have that one person in our lives who is absolutely obsessed with makeup. Their makeup is always on point, and you can't help but wonder how it looks so perfect all the time. Especially when you spend upward of 30 minutes just trying to even out your eyeliner!
Makeup lovers can be difficult to buy for because chances are, they already have every makeup essential they need to perfect their daily look. If you get creative, however, you can find some memorable gifts that the makeup aficionados in your life will not only appreciate but actually use. Check out our picks for some of the best gifts for makeup lovers.
Tarte Rainforest of the Sea Eye Shadow Pallet
What makeup lover can't use another pallet? This Tarte Cosmetics pallet features a variety of neutral, everyday tones that just about anyone could use. Reviewers mention that the eyeshadows are highly pigmented, blend well, and stay put. Best part? Tarte is cruelty-free.
EcoTools Bamboo Brush Set
Along with pallets, makeup brushes are an essential. You can never have too many. These brushes from EcoTools come with a storage tray and are made out of highly renewable bamboo. The 100% vegan brushes are made with soft, synthetic bristles. This set comes with five brushes: an angled foundation brush, a blurring brush, a defined crease brush, an angled liner brush, and a blush brush.
Tarte Mermaid Brush Set
Maybe the previous set was a bit too neutral for your makeup obsessed love one? If the recipient is more about bright, vibrant, and shiny makeup tools, these Tarte mermaid brushes are the perfect gift.
Jerdon Tri-Fold Makeup Mirror
If you see your glamorous one constantly sitting on the counter and getting as close as possible to the bathroom mirror to do their makeup, they definitely could benefit from one of these tri-folds. With 1 times and 5 times magnification and four different light settings, they'll be able to do their makeup with even more accuracy than they do now.
Three mirrors allow them to see their face from a variety of angles while bright lights provide plenty of visibility in even the worst lighting conditions.
Frameless Vanity Mirror with Hollywood Lights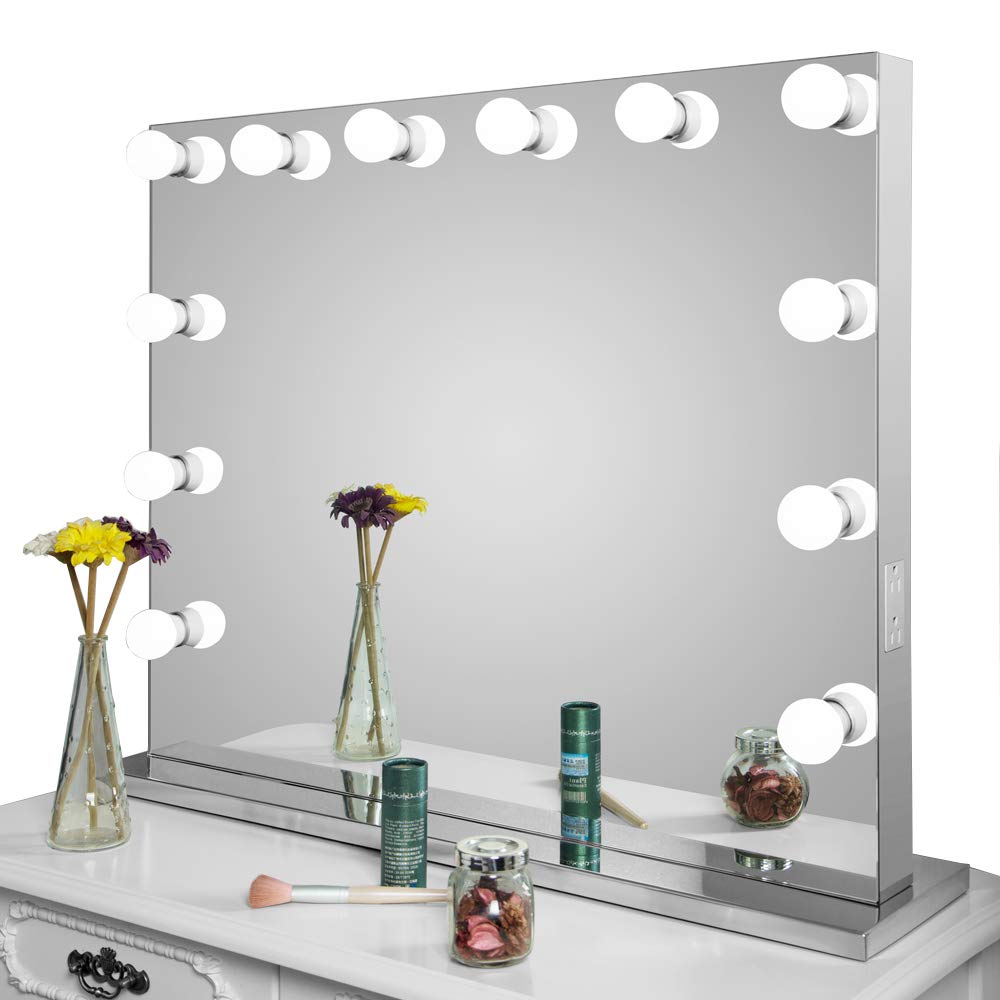 And if you really want to step up their mirror game, consider this light up Hollywood-style mirror. With 14 dimmable lights, this mirror can sit on top of the vanity or be installed on the wall.
RoselynBoutique Jade Anti-Aging Roller
This anti-aging jade roller is a must have for the makeup lover in your life. It's made out of authentic Himalayan jade stone and is said to reduce under-eye puffiness and minimize pores.
Blue Farmhouse Makeup Bag
This gorgeous makeup bag from Etsy is available with or without the tassel and measures 10-by-6-by-4 inches.
Too Faced Diamond Highlighter
Chances are you've heard your makeup loving friends rave about highlighters. This highlighter from Too Faced is infused with crushed diamond powder that will leave their skin glowing.
Aesthetica Eco-Friendly Makeup Brush Cleaner
Both Vegan and Leaping Bunny cruelty-free certified, this makeup brush cleaner from Aesthetica features a light, mild formula that won't cause breakouts or irritation.
The 6 ounce bottle lasts between 4 and 6 months with regular use and is formulated to break through grease and grime. This makeup brush cleaner is also free of parabens and gluten.
Reviewers mention that the fragrance is light and pleasant, and the consistency isn't too thick or too thin.
Thayers Witch Hazel Toner
Of course, makeup always goes on better when you have a clean face. After washing, use a bit of Thayers Rose Petal toner to ensure you clear every nook and cranny of your face. Unfiltered witch hazel and certified organic aloe vera cleanses and moisturizes your skin so you're ready to get your full makeup face on.
Frenchi Furniture Wood Vanity Set
If someone's makeup obsession is turning a shared bathroom into their personal Sephora, perhaps they could benefit from a makeup vanity. They'll have a dedicated spot to do their face and hair while you get some personal time and space in the bathroom.
MobileVision Bamboo Makeup Organizer
Do you ever walk into a friend's bathroom and feel totally bombarded by the makeup and skin care products overtaking the counter top? For a functional, useful gift, consider this bamboo organizer. It features a pull-out drawer and rotating nine compartment organizer to keep tubes, pencils, and brushes contained in one place!
Sephora Gift Card
If you find yourself really struggling to find the right gift for the makeup lover in your life, consider giving them the gift of choice! A Sephora gift card will allow them to choose that pallet or lipstick on their wish list.
Acure Facial Cleanser Gel
Acure is one of my favorite skincare brands! I've tried a variety of their face washes when staying the night with friends' but have never actually used it as a daily face wash.
In my experience, the formulas always left my skin feeling clean and moisturized, but never dried out or tight. All the scents are pretty without smelling perfume-y. This specific face wash is recommended for normal to oily skin and is also said to do a great job removing makeup.
Tea Tree Eye Makeup Remover Oil
Long-lasting eye makeup is great until you try to remove it. This Tea Tree eyelid and eyelash makeup remover is cruelty-free and vegan as well as paraben and sulfate free. The formula features organic jojoba and grapeseed oils, both of which are natural ingredients that you can feel good giving to a loved one.