While dreamy solar wallpaper may seem light years away, there are eco wall options out now that will fill your space with contemporary eco style and welcome in brightness. Are you interested in designing your space in a way that eliminates volatile organic compounds (VOCs, or offgassing chemicals)?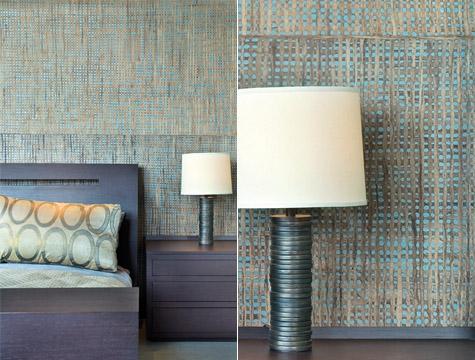 For example, if you happen to be an interior decorator check out this elegant, modern yet casual Caba Company Barkskin wallcovering. Barkskin is a natural, handmade wood material made of hand-pounded bark. "It mimics the look of stone, parchment or leather without the financial or environmental cost of these "luxurious" materials." ~Sprig
Here is another selection of delightful wall prints made with non-solvent water-based inks, and free of toxic vinyl: Anna French Wallpaper~
The Anna French patterns above are printed on non-woven paper that's created from a blend of natural, as well as synthetic fibers found in "everyday household items like gauze, tea bags and coffee filters."
Via Sprig.