"Baa-ram-ewe, baa-ram-ewe.
To your breed, your fleece, your clan be true.
Sheep be true. Baa-ram-ewe"
-Sheep, Babe (1995)
This quote from one of our family-cult-classics sprang to mind as soon as I read the press release about this very clever company in New Zealand. Icrebreaker is an innovative sustainable clothing company that is serious about maintaining ethical manufacturing and environmental standards.  
Icebreaker CEO Jeremy Moon says sustainability has been a non-negotiable part of the company's core philosophy since it was founded in 1994. Since then, Icebreaker has emerged as an innovator in merino-based outdoor layering systems, claiming to be the first apparel company in the world to source merino direct from growers.
Find out more about the Baacode . . .
Icebreaker's commitment to transparency in their entire process is evident in the creation of their Baacode system, which allows the owner of an Icebreaker garment to literally trace the production of that garment from the farm where the sheep were raised through the entire supply chain. Icebreaker sources its merino fibre directly from high country New Zealand farmers, all of whom must comply with stringent guidelines on animal health and welfare, long-term respect for the environment, and of course, fibre quality.
As of this August, all of Icebreaker's cool (although, they are actually rated on the website by layer and temperature – in terms of cold-weather protection) garments will have a special tag that will have a unique Baacode and instructions about how to go to the website and meet your sheep farmer and see the process by which your clothes were made.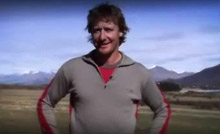 Meet New Zealand Merino Grower, Angus Rowley in this video! Angus is one of Icebreaker's ethical and sustainable merino suppliers.
Other relevant FGS posts:
Talking Fashion with Wearing the Future Editor
ZegnaSport Solar Jacket