Many of us are connected to gemstones and minerals, whether we choose to wear them on our bodies or have them in our homes to bring love, awareness, or just pretty little things into our life. Many yogis, in particular, choose to wear stones or crystals in the form of malas for their practice, or for their life.
Logan Mauldin, the founder and designer for Silver & Sage explains that malas, or mala beads, "date back thousands of years, with origins in Hindu practice. In Sanskrit, the word 'mala' means garland, and malas are just that: a garland of beads traditionally used in meditation to help one quiet and still the mind."
Malas are made with 108 beads, traditionally made of wood or seeds. But Silver & Sage brings an extra level of beauty and consciousness to their designs with a huge array of stones, which have myriad of meanings. My personal favorite stones are moonstone, a smokey grey and pearlescent stone and labradorite, a dark stone that shimmers like an opal. Turns out that moonstone can manifest protection, nurturing, self expression and fertility into your life (as long as that fertility does not bring forth a child, I'm good); labradorite stones support intuition, creativity and imagination.
Logan has lived a creative life: in a phone interview she explained that through her parents' jewelry business, she had spent a good portion of her childhood meeting silversmiths and wholesalers of these wonderful stones, and traveling with her parents on sourcing trips. Though she worked at her parents' jewelry business after college, she fell in love with yoga and began teaching full time. But the creativity of working with silver and stones was calling her. She said that while she loved teaching yoga, she felt that as an artist she was really missing the creative component in her life. And thus the seeds for Silver & Sage were planted.
Logan started making some charms, bracelets, and necklaces at her kitchen table, with her two kids running around. Local yoga studios and friends loved her designs, and encouraged her to take it to the next level; she felt she was really called forward to pursue this dream and launch the company. As she was growing her business, she was able to connect with silversmiths from her youth and build on long-standing connections. She also started learning more about the stones and loved understanding more about their natural, healing properties.
She explains that we can all can connect with the stones, which can depend on what's resonating with us at a specific time or in our lives generally. She says, "One of the things that makes our jewelry so special, is that the beauty lies in the connection a person makes with it. It is so much more than just a bracelet to go with an outfit."
Silver & Sage still handmakes all their jewelry, although they have moved off Logan's kitchen table and into a studio in Scottsdale, Arizona, where almost all their pieces are still made. Some pieces come from Mexico, while others are made in the US from trusted vendors that follow fair business practices. Their molds for their charms are made from natural rubber harvested from a sustainable forest in Peru, which can be recycled into roof tiling at the end of its life. The company also makes sure to recycle all their excess metals, such as pewter, silver, and copper, and since it's natural it doesn't need to be refined further.
If your hands and heart are calling you to choose a mala, you can check out Silver & Sage's online shop, or join them at mala-making workshops at the upcoming Wanderlust summer festivals throughout North America, which includes Aspen, Colorado (June 30-July 3), Squaw Valley, California (July 14-17), Whistler, Canada (July 28- Aug 1), Tremblant, CA (August 11-14).
In the workshop the students will be led through a vinyasa or meditation class and then learn about the healing properties of natural gemstones and allow your practice in this class to inspire you in designing (or selecting) your own unique mala. Students can design their own to be made at the Silver & Sage studio, which will be mailed to them within two weeks.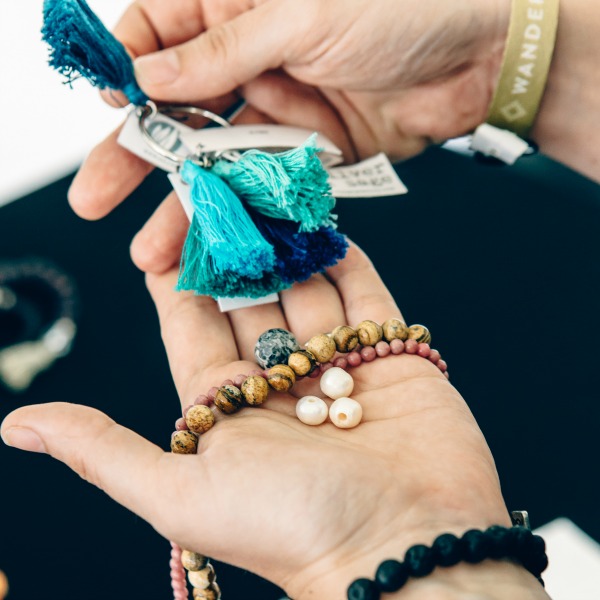 Images by Julianne Lesinski for Wanderlust (except for image of Logan, from Silver & Sage, used with permission)