Fall is right around the corner, which means it's time to look at nail polish colors for fall 2015! Nail polish colors are one of the easiest ways to embrace fall trends, since they're one of the more affordable "trendy" items out there!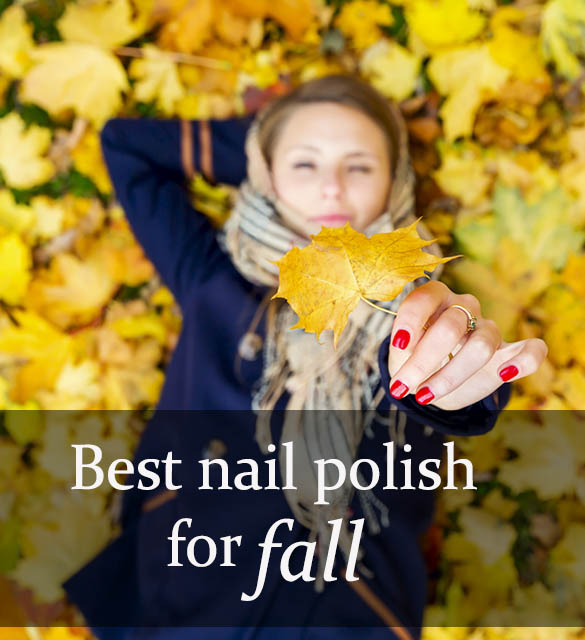 To top it off, the brands below are all five-free, which means they're free of formaldehyde, formaldehyde resin, camphor, dibutyl pthalate, and tuolene- all of which are sketchy chemicals linked to endocrine disorders and other health issues. Yikes.
That said, the odds are slim that putting these chemicals on your nails is going to cause any major health issues, since the polish sites on your nails, where it can't be absorbed into the blood stream. I don't know about you, but I'm not quite that coordinated when putting on nail polish, so I'd rather err on the side of caution and find some trendy shades that are five-free!
Besides, the toxicity is in the fumes too (everybody knows that chemical-y nail polish smell!), so it's always good to avoid harmful substances like those whenever you can!

1. Burgundy
This is similar to summer's marsala (which continues to be a big hit into the fall season) but with a little more maroon. This shade, from Priti NYC is called Painter's Palette. All of Priti's colors are made from natural (and mostly organic!) ingredients that are non-toxic. Priti is also partnered with a chemical recycling company, so they not only recycle the used nail polish bottles, but they re-use leftover nail polish colors by mixing the old stuff in with new, similar colors. They also offer a handy list of things you can use leftover nail polish for: clear polish can be used to waterproof things, you can used colored polishes to label things, or you can use leftover colors as paint!
2. Navy blue
This super cool shade by Spa Ritual is called Blue Moon.The brand is totally vegan, and its products are sources only from plant-derived ingredients that are organic and fair trade. Fittingly, the brand's motto is "slow beauty in a fast world," which it fully embodies with an entirely eco-friendly manufacturing process, from making the nail polish to packaging it. Very cool. (Also, shoppers can save 10% on their first order when they shop on the site!)
3. Indigo
A deep mix of the darkest blues and purples, this gorgeous shade from LVX is called Indigo Bleu. We've written about our love for LVX before (here and here), but what makes this brand so great is their commitment to quality, trendy color that's good for the environment… and their polishes are vegan!

4. Bright red
Does bright red ever go out of style? Of course not! This color is a classic, especially for fall, so it's fitting that this shade comes from the one and only… Chanel. That's right, Chanel! All of the luxury brand's polishes are five-free, including this spectacular shade, Rouge Rubis. It's definitely one of the more expensive ones on this list, but after all, it's Chanel.
5. Metallic teal
This turquoise beauty is also from LVX, called Narcissist. LVX does a lot of research to ensure its most recent collections are current, and they've matched up this gorgeous shade with a few current runway trends, which you can see on their website. In a few words: five-free, cruelty-free, vegan, amazing.
6. Light Orange
Now, we're getting into the lighter shades! This color is CHA CHA-pale tangerine, sold by Obsessive Compulsive Cosmetics. The polish has a quick-dry formula, which is an added bonus with all the other benefits like being five-free, cruelty-free, and of course, vegan!
7. Pale Sage Green
Like some others on this list, this neutral shade is almost a classic. This color, called Camp, is from RGB cosmetics, and it's another one of our favorite brands! They're five-free, cruelty-free, and vegan. And all of their products and packaging are fair trade.
8. Light Pink
We saved the best for last with this one! These are pastel pink nail wraps in Rose Rock from NCLA. They're five-free, totally vegan, and not tested on animals, of course. Nail wraps are huge now, especially since they're so much more convenient than regular nail polish, so this list wouldn't have been complete without them! All you need is a nail file and some clear polish to seal it. If you need some clear polish, NCLA has you covered.
 Photo of woman from Shutterstock.