Kering Group – the parent company that owns brands like Gucci, Saint Laurent, and Puma – is sponsoring a grant for sustainable fashion at the London College of Fashion.
The details of the Kering sustainable fashion grant will be officially announced on Wednesday. Vogue reports: "Each year, the scheme will award £31,500 to two students who will in turn focus their attentions on the ethical side of fashion." That's around $51,000.
The French fashion conglomerate's CEO Franҫois-Henri Pinault wrote a piece about Kering's sustainability iniatives for The Telegraph. Pinault said, "by the very nature of our industry's innate creativity and ability to set trends, fashion can be a powerful player in illustrating new and appealing solutions to a more sustainable world."
Kering and Sustainability
Kering is doing some interesting work to make its brands more sustainable. According to Pinault's piece in The Telegraph, they set an aggressive five year plan to reduce their environmental impact. They're also working on publishing the fashion industry's first Environmental Profit & Loss account (an "E P&L"). That report will look at Kering's supply chain and identify areas where they can further reduce their environmental impacts.
The first thing that struck me when I visited the Kering website was the slideshow at the top. It featured some news articles about their sustainability initiatives and this slide: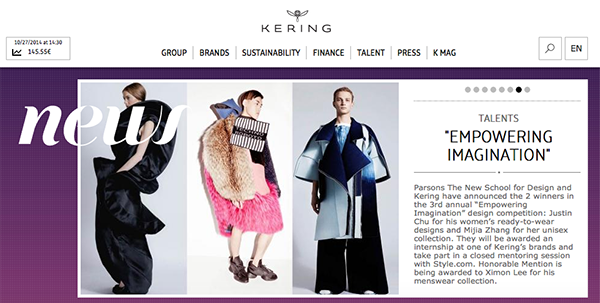 I have a hard time meshing a commitment to the environment with the promotion of fur and leather. Animal agriculture is the most polluting industry on the planet. Leather and fur are super hot on the runway right now, and that's bad news for the environment.
Related: Video the Leather Industry Doesn't Want You to See
I would love to see Kering use its influence to squelch this trend that's bad for the environment and bad for animals. Maybe the London College of Fashion designers that Kering supports through its new program to promote fashion that's truly kinder to the planet.
Sketching photo via Shutterstock