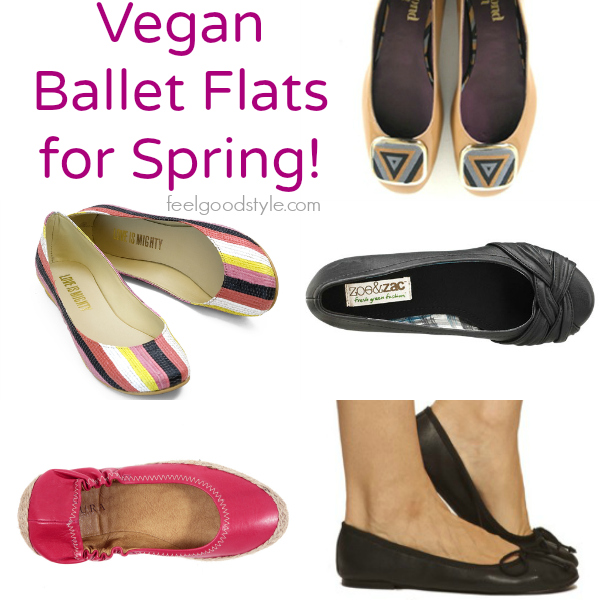 There's an idea that leather shoes are the most eco-friendly, but these beautiful vegan ballet flats prove that you can protect both animals and the planet!
I have to admit I'm grateful that ballet flats are still in style this year. As a woman of questionable balance, high heels are not my friend. I am in awe of women who can rock a pair of heels without toppling over spectacularly. As a vegan, I'm also grateful that it's easy peasy to find leather-free vegan ballet flats, so my footwear can be in line with my ideals. Here are the spring shoes that I'm drooling over right now.
Related Reading: Why I Don't Craft with Leather, Vegan Shoe Shopping Made Easy
5 Vegan Ballet Flats from Eco-Friendly Materials
1. Camel Flats from Beyond Skin – I'm loving the tribal-style brooch on these shoes made from eco-friendly materials in closely-monitored Spanish factories. You can read more about Beyond Skin's committment to eco-friendly materials and people-friendly business practices on their website.
2. Uma Ballet Flats from Love is Mighty – These festive recycled plastic ballet flats are made from old candy wrappers. They're loom-woven, and Love is Mighty makes sure that the workers doing the weaving are paid a fair wage.
3. Dittany Twist Ballet Flats by Zoe & Zach – These sweet ballet flats are made with recycled rubber sole, organic cotton, and formaldehyde-free faux leather. The best part, you can buy them at Payless! I can't tell you how it warms my heart to see eco-friendly, vegan shoes going mainstrean!
4. Heather Ballet Flats from Neuaura – These jute-wrapped flats looks super comfy, don't they? You can read more about Neuaura's committment to the planet and to their workers on their website.
5. Pepper Ballet Skimmers from Cri de Coeur – Just like the little black dress, I think a pair of simple black ballet flats make it so easy to head out basically anywhere. You can dress these basic shoes up or down and feel good about wearing them! Cri de Coeur uses low VOC and recycled materials. They're devoted to protecting the planet, the people, and animals.