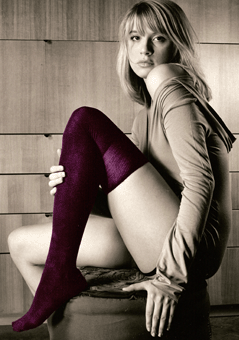 It's time once again for a festive lingerie party so check out these new stockings from g=9.8 offered for the holidays from By Nature. They combine softness, elegance and warmth. The tights are made from pine fiber, which is a new material derived from recycling the wastes of tree pruning. They've added new colors this season like sophisticated black currant shown here. Sophie Young the founder of g=9.8 uses Lenpur® which she promotes as, "a sustainable textile made from white pine tree clippings processed with enzymes into fibre." The fiber has amazing properties, for example:
the material regulates temperature so that you are never too hot or too cold.
it holds it's shape and conforms to your curves.
the fiber is biodegradable and anti-bacterial.
it washes well and dries very quickly.
By Nature explains:
"Sophie Young takes a sustainable approach to the development of her brand. The eco-concept of g=9.8 creates products which have a limited impact on the environment. The wood fibre is made from sustainably managed wood and not based on a cycle of unnatural deforestation. Only certain parts of the trees are chosen and selected while harvesting coincides with normal pruning*. The water consumption is limited. g=9.8's uses eco-friendly and non-toxic dyes certified by Oekotex.'
From socks to undies there are sustainable intimates for everyone this Holiday season!
Also try support stockings for varicose veins!