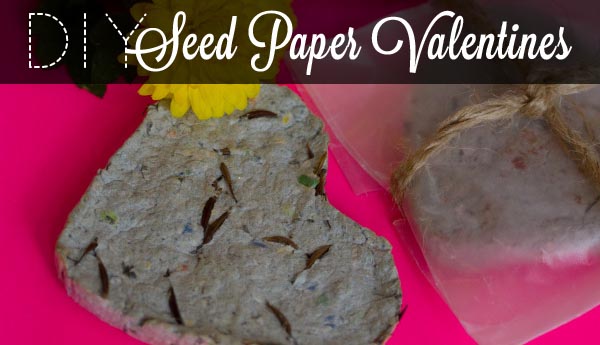 Really, these seed paper hearts are great Valentine ideas for him or her. Or for kids. Or to make for yourself!
Scott Meeks – aka Crunchy Scott – at our sister site Crafting a Green World shared this Valentine's Day craft that uses junk mail to create pretty plantable Valentines. You can get the tute below!
Valentine's Day – like all holidays – comes with its share of holiday waste. From imported cut flowers sprayed with chemicals and shipped from across the world to the more than 145 million disposable cards sold each year, Valentine's Day creates a shameful amount of trash.
But that doesn't mean you have to give up Valentine's Day. It just means we need to think about Valentine ideas that are more about the love and less about the stuff.
These seed paper hearts are the perfect alternative to conventional Valentine's Day cards. And your Valentine can plant and enjoy the flowers they produce for much longer than they'd probably display a paper card.
Valentine Ideas for Him: Seed Paper Hearts
by Scott Meeks, Crafting a Green World
What You Need
1 cup of ripped-up newspaper or junk mail
2 cups of water
Wildflower seeds
3 heart-shaped mini aluminum pie tins or silicone molds
2 large bowls
Blender
Prep Your Paper
Tear the newspaper or junk mail into small pieces. This is the perfect task for tiny hands that need something to do! Be sure to throw in a few small pieces of red or pink paper.
In a blender, blend the water and paper until it's a chunky. It should look like oatmeal.
Dump the mixture into a bowl.
Take handfuls of the pulp and squeeze out most of the water. The pulp should now be moist, but not sopping wet.
Put your squeezed-out pulp into a clean bowl.
Make Your Seed Paper
Sprinkle your pulp with wildflower seeds and gently mix with your fingers.
Divide your pulp into three equal parts.
Mash each part into the mini pie tins or silicone molds.
You can pat the tops dry with a cloth to get rid of excess moisture.
After 24 hours, pop the paper hearts out of the tins and place them on a cookie rack for another 24 hours to finish drying.
Attach these hearts to homemade cards or simply wrap them in wax paper and give away as Valentines.