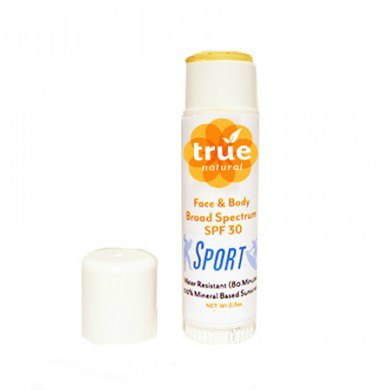 Summer is coming, and don't you just love it? Looking forward to days by the pool, picnics, outdoor activities. Not so much the messy, gloppy sunscreen.
Love True Natural sent me a new product to solve this pesky problem just in time for summer. True Natural Sport Stick SPF 30 Broad Spectrum Face & Body Sunscreen hits the scene. This all natural, nontoxic product answers all of your sunscreen wishes. No harmful chemicals, serious mineral protection, invisible on skin, and super easy to apply.
Stash a stick and you are ready for sun protection on the go. Simply swipe on face and body, this sunscreen stays put and won't move into eyes. Your kids will love it too.
True Natural Sport Stick SPF 30 Broad Spectrum Face & Body sunscreen is made with shea butter, plus coconut and sunflower oils to keep skin hydrated without being greasy. Added aloe and vitamin E soothe and protect.
Like the other high-performance sunscreens from the True Natural line, Sport Stick is made with non-nano mineral sunscreen to provide the most effective protection against UV rays. While chemical sunscreens absorb to deeper layers of skin, mineral sunscreens provide a protective barrier on the top layer of skin, shielding deeper layers from more harmful rays and preventing long term UV damage.
True Natural Sport Stick sunscreen is also biodegradable, so won't contaminate the earth, and gluten-free.
Sport the stick this summer.  Currently available for pre-order.
This post is supported by Love True Natural.