It's true, relaxation is good for you. And instilling a regimen of caring for your skin is a great example of that. Trying to establish a facial care routine can feel overwhelming when you see all the different products you're "supposed" to use. But when you break it down to just four, the process can feel a lot less stressful. Face wash, toner, and moisturizer are products that should be used daily. The fourth product, face masks are used weekly or monthly. And while they're only used occasionally, they are the most relaxing and rewarding.
Face masks can provide your skin with a variety of benefits. You could go with a moisturizing mask for dry, winter skin or one that eliminates pesky blackheads. You can choose one that detoxifies and removes impurities or one that treats oily skin.
Like many traditional cosmetics, face masks can contain a variety of harmful chemicals including parabens, synthetic colors, phthalates, and formaldehyde. However, there are many natural face mask options available for all sorts of skin types. Check out some of our favorite natural face masks from Amazon and Etsy.
Indian Healing Clay
For those with sensitive skin or those that prefer a no-frills face mask, check out this Indian Healing Clay. This dry mask can be mixed with either water or apple cider vinegar and is made with 100% natural calcium bentonite (Green) clay.
While you can use the mask as is, there are also a variety of recipes to create a mask that's all your own.
Reviewers rave that this is the best face mask they've used and that the formula is mild enough for sensitive skin.
Buy it on Amazon: Indian Healing Clay Face Mask
Acure Brightening Face Mask
For a vegan, gluten-free option, check out this natural face mask from Acure. This mask is gentle on sensitive skin while still leaving your face soft and rejuvenated.
This mask is paraben, phthalate, DEA, and formaldehyde-free, so you can feel good knowing that you're not putting anything funky on your skin. Personally, this is my go-to mask, and I find it to really wake my skin up.
Unlike other face masks, the scent isn't fake and perfume-y, it's mild and light. Reviewers mention that the mask works well on acne-prone skin and leaves your face moisturized and brightened.
Buy it on Amazon: Acure Brightening Face Mask
Yes To Tomatoes Detoxifying Charcoal Mask Stick
If you're the type that can't stand the messiness of face masks, check out this snapMASK stick from Yes To Tomatoes.
Using the mask is as easy as popping off the cap, rolling up the stick and applying it across your face. Let it sit for 5 minutes and rinse it off! Though I haven't tried this mask myself, I have tried the coffee scrub from Yes To (which you should totally try, too) that features the same roll-on application. It removes a lot of the mess associated with masks, and I usually just hop in the shower to rinse it off. Can you tell that I really don't like a messy bathroom…?
This mask is designed with acne in mind, featuring detoxifying charcoal, salicylic acid, and tomatoes. The formula is 96% natural and leaping-bunny certified.
Reviewers mention that the mask is ideal for those with oily skin but to be careful not to use too much as it can dry your skin out.
Buy in on Amazon: Yes To Tomatoes Detoxifying Face Mask
Gentle Oatmeal + Coconut Milk Face Mask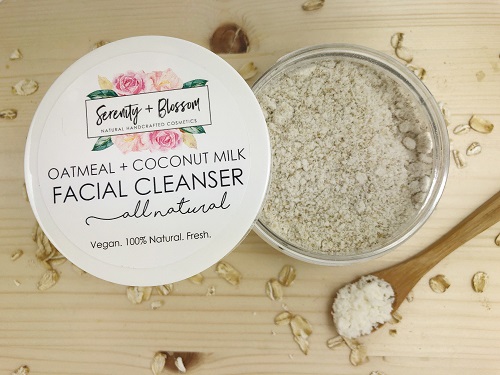 100% natural and vegan, this oatmeal and coconut milk face mask are ideal for the most sensitive of skins. Unlike other powdered face masks, you don't have to add water to this one. Simply apply the dry mask to wet skin and you're set.
Made out of raspberry seed oil, organic jojoba oil, kaolin clay, coconut milk, and organic oatmeal, this mask has no preservatives or chemicals.
The formula makes for a lightly foaming mask that cleanses, exfoliates, and removes oil from the skin.
Buy it on Etsy: Oatmeal and Coconut Milk Face Mask
Spirulina Detox Mask
For another detoxifying option, check out this face mask made from spirulina. Available in 2 or 4 ounces, this face mask is fresh and made to order.
Featuring bentonite clay, activated charcoal, and diatomaceous earth, this face mask is designed with acne-prone skin in mind.
The Etsy listing for this item describes what the purpose is behind each ingredient, allowing you to make an informed decision about what you're putting on your skin. You have the option of adding turmeric, and it's even homegrown in the seller's own backyard!
Buy it on Etsy: Spirulina Detox Mask
Activated Charcoal Blackhead Mask
If you've ever dealt with an onslaught of pesky blackheads, you know just how frustrating they can be. There are a variety of face masks designed with blackheads in mind, but this one in particular features charcoal designed to pull impurities out of your skin.
Reviewers mention that this mask leaves their face feeling soft and refreshed. However, we all have skin that reacts differently to products.
And as with all face masks, especially those that are detoxifying, make sure to do a spot test before applying the entire mask.