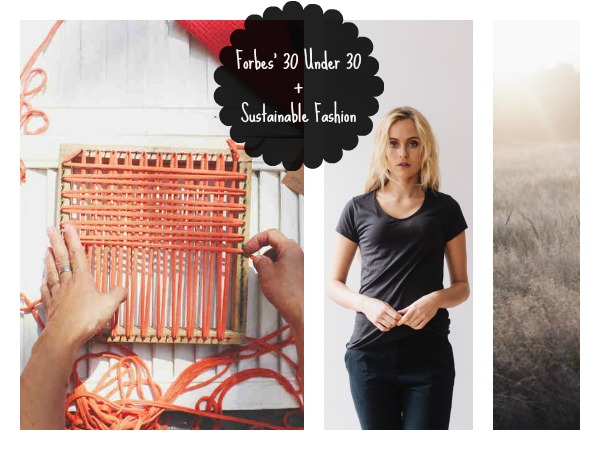 Earlier this month, Forbes released the 2015 30 Under 30 listing, which included several eco- and ethically-minded fashion-folk.
Forbes has been releasing 30 Under 30 for four years now and this year's list boasted "600 millenials in 20 fields."  The round-up is divided into 20 categories, including, but not limited to: venture capital, art & style, energy, finance, and social entrepreneurs.
This year's 30 Under 30 was a who's-who of the environmentally elite.  With an entire energy category, and some awe-inspiring wearable tech, the listing, thankfully, also did not shy away from some sustainability-minded fashion front-runners.
First up is Reese Fernandez Ruiz, one of 30 Under 30's notable "social entrepreneurs."  Fernandez-Ruiz co-founded Rags2Riches, a for-profit "social enterprise" based in the Phillipines.  Not only does Rags2Riches produce its goods (home and personal accessories) from upcycled, ethically-sourced, and local materials, but Rags2Riches employs local artisan women.  Employees are paid a fair wage and are provided with resources and education so that they might further build on their skill sets and existing knowledge-base.  Shop Rags2Riches here – these products are more than affordable.
Also featured, in the "retail & e-commerce" of 30 Under 30 category are Natasha Tucker and Cora Hilts, co-founders of Reve En Vert, a Website which features sustainable, eco-friendly brands in the fashion and lifestyle arenas.  Though the brand does carry some leather items, Reve En Vert's "ethos" is based on four foundational elements, which delineate that the items they sell be local, independent, sustainable and ethical.  Tucker and Hilts very clearly understand that they have a choice in terms of who they support and what they sell: "It is a project of passion by the two of us to support designers that are doing their best to improve the standards of the design industry."  Shop Reve En Vert here.
Take a peek at all of the other well-deserving recipients of placement on Forbes' 30 Under 30 listing and feel inspired!