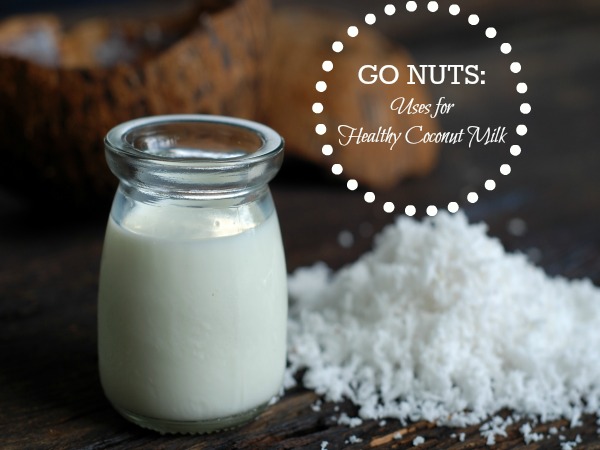 Besides being a tasty addition to delicious dishes and scrumptious sips, healthy coconut milk, in moderation, is a wonderful partner in natural-lifestyle crime.  High in magnesium, phosphorus, and calcium and a creamy, dreamy addition to beauty products, healthy coconut milk is where it's at.
Before I get to how to use healthy coconut milk, let's talk about  those nutrients.
Magnesium maintains your nerve function and promotes a regular heartbeat.  It keeps your blood pressure in check (high-five!) and helps your immune system work it.  Phosphorus and calcium help maintain bone health and phosphorus is good for your digestive functionality.  I should also say here that, while canned coconut milk is super-convenient and perfectly acceptable, it's going to contain fewer of those fab nutrients and you may run the risk of a BPA-infested can.  You can make your own coconut milk, though, and avoid worry.  Now, let's get to the good stuff.
5 Way to Use Healthy Coconut Milk
1) Give your hair some love!  Coconut milk contains lauric acid, a medium-chain saturated fatty acid, commonly found in breast milk, which is helpful as a converted antibacterial element and helps in reducing protein loss.
2) Remove your makeup: combine equal parts extra virgin olive oil (a natural make-up remover) and healthy coconut milk and gently massage into your face with a washcloth.  Rinse and enjoy your lovely makeup-free face!
3) Now wash that pretty face of yours! Mix cleansing grains with coconut milk for a gentle, relaxing facial cleanser.
4) Nix the takeout and fix your own coconut curry.  Even my kids are fans of the warmth of a weeknight curry (not too spicy) and curries are a breeze to throw together.  Check the label (BPA- and guar gum-free, no added sugar) on a can of light or full-fat healthy coconut milk and make your life a little easier.
5) Pamper yourself!  Mix up some simple body scrub (equal parts coconut milk and sugar of choice, with some room for a spoonful or two of oil of choice, if you wish) for smooth, soft skin.
Image credit: Coconut photo via Shutterstock.