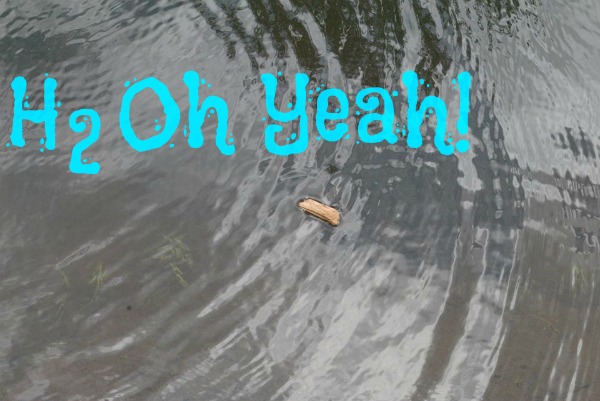 H2O. One diatomic molecule of hydrogen that has bonded with an atom of oxygen. Simple?
Simply amazing! This incredible combination has turned a science-classroom-only term into the most commonly known chemical formula. H20, more casually known as water, is a versatile part of life whose uses shoot through the roof.
So, this H2O thing, right? A famous tour group leader once made staying hydrated exciting by saying, "H2" and our group would respond with "Oh yeah!" Let's get excited about all that water has to offer!
Obviously, drinking that stuff. Substituting sodas and juices for the recommended amount of water every day (approximately 32 ounces) can reap tremendous benefits for your body. Staying hydrated means you can say goodbye to that dry and flakey skin. Your acne and skin redness will even be neutralized by water's natural healing powers. H2O keeps your intestines fresh and can help clean out the digestive system. It will even boost your mood and energy levels… is there any reason NOT to drink water? Educated rumors are saying that your body prefers room temperature water over ice water, and that the 32 ounces should be drank throughout the day rather than just at meals.
Fun Fact: How do you know if you're drinking enought throughout the day? The lighter your pee, the more hydrated you are!
Take a dip and go swimming! Swimming is such a great exercise to do all year round. During the summer and early fall, go out to a local lake, river, ocean, or outdoor pool and enjoy. Whether you're training in the lap pool or just treading water and talking with friends, your body will thank you for the break that doubles as an exercise!
Take time to study or hang out by a body of water. Studies have shown that exposing yourself to water outside actually makes you mentally healthier. It's a great relaxation technique and can assist you on anything from concentrating on reading a textbook to completely spacing out. Here's a challenge of the day: try to find a local body of water, no matter the size, and claim it as your spot.
Rain, rain, go away?! Come on people, what is this culture? Just because it's raining outside doesn't mean you have to head straight for the sweatpants and slippers. Try putting on weather appropriate clothes and having some fun in the rain! Run around, jump in puddles, catch raindrops on your tongue! Whatever it is, appreciate that natural shower. Speaking of…
Showers. Mmm, the best part of the day. Plan a routine to shower/bathe every day and use it as personal meditation time. Especially when you are constantly surrounded by other people, showers are the perfect excuse to get away and have a little "me" time. Listen to music, zone out, or try to solve the world's problems. The calming stream of the shower will help with whichever endeavor you take on that day.
About 70% of our world is made up of water, but don't forget to conserve it! Turn the faucet off when you're brushing your teeth. Give the shower a break while you're not directly using it. Buy a filtration pitcher and reusable cups or on-the-go bottles to keep yourself hydrated without giving plastic, disposable bottles the time of day. We can't enjoy precious H2O if it's not here!!
While some of these uses may seem foreign to you, just remember that one day a long time ago, nobody knew what H2O was. And now? Exactly.
Feel free to leave comments for any more of your water uses and adventures!
Image Credit: Photo by Jonah Goldman Kay