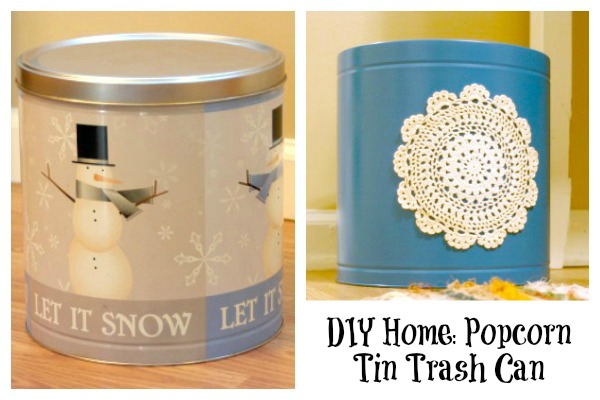 Originally posted on Crafting a Green World
Rather than buying an ugly plastic trash can at a big box store, upcycle a popcorn tin into a trash can that can be personalized!
With Christmas right around the corner, I've started to see a ton of old Christmas popcorn tins at thrift stores and garage sales. I was inspired by this Popcorn Tin to Trash Can post from Bleak 2 Unique to create my own trash can for my bedroom. I needed one for quite some time, but I wanted it to be pretty. I found the perfect solution by upcycling a popcorn tin!
What You Will Need:
1. A large popcorn tin
2. Spray paint. As we all know, spray paint isn't the greenest craft supply, so be sure to use a low VOC spray paint
.
3. Any other embellishments you would like to add
How To Do It:
1. Clean the popcorn tin. Mine had a little dust in it.
2. Spray paint your tin the color of your choice!
3. Add your embellishments. I hot glued a doily (that I found at a garage sale) onto mine!
It's so perfect in my bedroom– it matches my color scheme and the vintage feel that I have in the room. You could make this for any room of your home because it's so easy to personalize and style! What could you transform your popcorn tin into? Share your ideas in the comment section below or on our Facebook page!
Wondering what to with the lid of the popcorn tin? Check out my magnet board made from a popcorn lid project over at Crafting a Green World!

Looking for more DIY home ideas? We have a lot of awesome projects for you: