I love yurt living. It's like camping out, — but in a modern, convenient structure. The dome has so much to do with that feeling.
As we face the Autumnal Equinox, I watch the interior dome light shift as it does with my landscaping. The daily light beam changes with seasons.Six months ago it was time to move into my yurt. But after downsizing for years, I had no furniture left. The main pieces I needed were for storage. So as a result, I bought cheap plastic drawers on wheels to get the job done. I didn't think much about the wheels at the time, but as my lifestyle transformed more like a nomad, it was appealing in a mysterious way.
The yurt needed cleaning before I came to really appreciate the wandering skylight beam. Now that's a task I've never embraced. Yet when I could move my three and four-drawer pieces with ease, ‒ well I'm tempted to say floor cleaning was fun. The wheeled furniture appeal started to make sense.
This experience has me seeking an interior yurt designer with only one discovery to date. Hence, I'm happy to share my find. For only USD $15, you can purchase Round Design: Modern Yurt Interiors in an e-book format. The author is Rebecca MacKay, who resides in a yurt with her family in Washington state.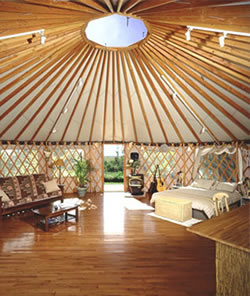 No review here, as I've not read Rebecca's book yet. But I'm sure hoping she shares light alteration facts that give me more reason to pursue furniture on wheels. Her most appropriate chapter may be: Invite the right furniture and art into your yurt.
Meanwhile, Lifehacker author Angus Kidman shares her recent post titled Add Wheels To Your Furniture For Faster Cleaning. Could we re-phrase this to Furniture on Wheels Makes Finer Yurt Living?
If any readers out there have input on this topic, please do send your comments! I'm starting to wonder if a licensed interior yurt designer exist on our planet?
RELATED POSTS:
Yurt Living: Dome, Cupola or Spire?
Yurt Living – Colors
Yurt Living – Creative Doorway Designs
Yurt Living – Design Rules Pricing
Yurt Living – Climate Comfort Part 2
Yurt Living – Climate Comfort
Yurt Living – Getting Started