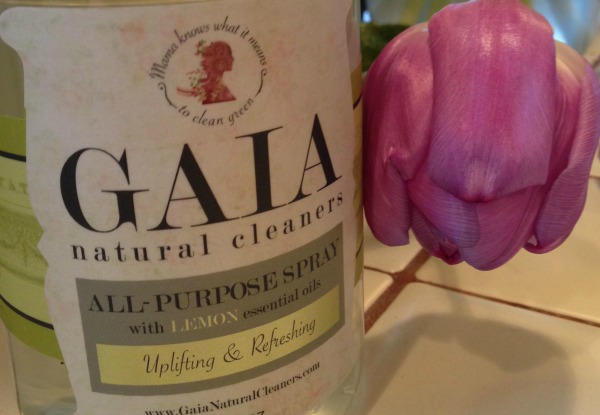 Do you make your own natural cleaners or buy commercial products?  Have you found household cleaners that are nontoxic and effective?  Read on for reviews and discounts too!
While I am all about the green cosmetics, I also try to keep our household products as nontoxic as possible. While I make certain cleaners out of stuff we have on hand, like baking soda, lemon juice, white vinegar, and dish soap. While these get the job done, they do not smell particularly fresh, clean or appealing. I just don't get that some oomph from spritzing my counters and floors with vinegar as I do with something lovely-scented. How about you?
So…how about some yummy smelling household cleaners, that are nontoxic and really work?
I recently received a few household cleaning products to sample from 2 different companies. First off was Gaia Natural Cleaners. I'm a big spray cleaner kind of gal, so I was happy to see a big bottle of all purpose cleaner included. The label reads…"Uplifting & Refreshing". I'm all in! Smells minty and citrusy. Very fresh and clean. And works just like regular (read: toxic) cleaners.
Gaia All Purpose Cleaners are made with pure castile soap and natural oils. Healthy + safe. And at only $4.50 per bottle they are a good deal too. Also come in Lavender and Tea Tree. FGS readers receive 15% off their entire order at Gaia through 3/6/14 with code FEELGOOD15.
Also in the mix is an all purpose cleaning sample sent to me from Pure Living Boutique called City Made Green. This cleaner is cloudier looking than your average all purpose cleaner, but don't let that worry you. It comes concentrated, simply mix with water and shake. Works like a charm. I even used it to shine up my faucets and appliances. Scent, you ask? Mild grapefruit. While I prefer a good solid scent for my household cleaners, this super soft, very clean smelling scent is perfect for a freshen up and would be ideal for those who are averse to strong scents.
City Maid Green All Purpose Cleaning Concentrate is also made with pure castile soap and natural oils, and comes in Grapefruit or Lemongrass Lavender. It's $10 a bottle but, after mixing with water, you get four 16 oz bottles worth of cleaner. Head over to Organic Beauty Source for reviews of some skin care products Pure Living Boutique offers plus a discount.
I recommend both of these highly. Since it seems I am constantly spraying stuff (tiles countertops, muddy dog prints, sticky finger marks…) I go through spray cleaner pretty quickly. It's nice to know that I can use something that makes my house smell great and isn't bad for us.
Both Gaia and Pure Living Boutique sent laundry detergent for me to try too. Stay tuned for that post coming soon.