If you didn't already know this, fall is the best time of year for being outside (in my opinion at least), which calls for some new activewear!
Personally, I'm pretty picky when it comes to my activewear since I work out a lot, and it has to be comfortable! I also live in Florida, which means it has to breathe well in the heat during our balmy summers!
So when Cariloha sent me some workout clothes, I couldn't wait to try them out!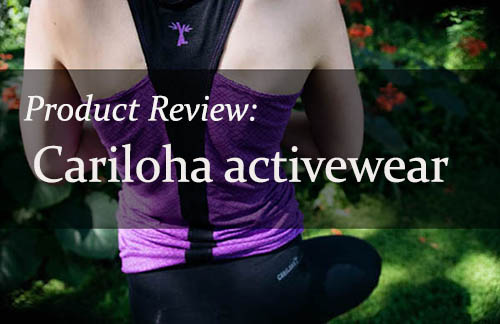 A Little Bit About Cariloha
On the outside, the brand has a cool and easygoing island vibe with lots of bright colors and thin breezy fabrics. They have everything from sheets and towels to everyday menswear and womenswear.
But when you look a little deeper, it's got something pretty cool going on. In keeping with the easygoing island persona, Cariloha's goods are all made out of bamboo! So not only is it sustainable and good for the environment, but it's extra light and breathable- perfect for workout clothes!
According to their site, bamboo is cooler on the skin than cotton and better at wicking moisture away from the body. I mean, it's like this stuff was made for workout clothes.
Like I mentioned, they have other stuff too, but to me it just made sense to go the activewear route to really put this bamboo fabric to the test!
I tried out these legging capris and this tank top… and I did a couple of fitness activities to test them out!
The Benefits of Bamboo
First thing's first- I wanted to try them out in a yoga class. Not just any yoga class, but bikram! For those of you who have done bikram before, you know it's no joke! It's a 90-minute class heated to 105 degrees, so I figured it was probably the best place to test out my new fitness gear!
I noticed the cooling effect of the bamboo fabric as soon as I put it on- it was surprisingly thin too, which probably added to that cooling sensation. Another thing that they didn't advertise- it's so soft! And you barely even notice the seams, making the clothes feel so comfortable since there's nothing digging in (which can happen with activewear since it generally has a tighter fit than regular clothing).
During class, I really noticed how thin and breathable the bamboo fabric was- it was almost a little unnerving, since I'm used to thicker materials that don't really move as well, and it felt like it might be a little bit too thin. (Remember the Lululemon see-through pants controversy?!) But no worries, I checked them out in a mirror and the material is thick enough that it doesn't show anything it's not supposed to! Phew!
I quickly realized the top was my favorite though- it was tight enough to stay in place without being clingy or constricting. It's hard for me to find workout tops that I actually like, so this was an exceptional win!
My next activity was a bit more simple- just a long run! I went five miles in the same outfit (don't worry, I washed it in between wears and it still held up!). I noticed the moisture-wicking a lot more on my run, which was impressive considering how humid it was.
The only drawback I noticed when I wore them out on my run was that the pants don't have a pocket! Most workout pants/capris will come with one of those tiny hidden pockets for you to put a small key in, but sometimes workout leggings will omit that little feature, especially if they're made just for yoga. This must have been true for these pants, because my beloved key pocket was conspicuously absent. Oh well, first world problems- I just had to carry the key in my hand!
Overall, bamboo fabric is fantastic! I definitely liked the top more than the bottoms, just because it's so hard for me to find workout tops that are thin and breathable with such soft and non-clingy seams.
Another pro that I found from browsing their website- all of their stuff is bright and cheery so if you're looking for some color in your workout wardrobe, you're in the right place. Their activewear is so cute, you'll want to wear it all the time. Pricing is competitive with other similar activewear brands that you might find in a sporting goods store (though definitely not as expensive as, say, Lululemon).
Also- they have sports bras now! I'll probably end up trying one of those out too to see if I like it as much as I like the top. You know how sports bras totally dig in sometimes? I feel like Cariloha is going to remedy that with a perfectly soft and stretchy solution.
And now for the best part! Cariloha is giving away one workout outfit to a lucky winner! Enter below by following Feel Good Style and Cariloha on Twitter and Facebook!