Whether you're a bar soap kinda dude or a body wash kinda gal, we can all agree with one thing, soap is a necessity. With so many different soaps available in every shape, size, and scent, it can be difficult to find the one that is best for you and your skin. And the same goes for natural soap.
When you're choosing the perfect soap, your skin's sensitivity is the main concern. Avoid formulas that cause you to break out or get a rash. If you're unsure, do a spot test on your arm before using it all over.
Many traditional soaps have harsh detergents and artificial fragrances that can cause all sorts of skin irritations. Nowadays though, there are all sorts of natural soaps available on both Amazon and Etsy. We've compiled a list of some of our favorite natural soaps that you should try.
Dr. Bronner's Pure Castile Soap
If you've read any of my other natural beauty articles, you already know how totally obsessed I am with Dr. Bronner's. Seriously, I don't think I'll ever use a different soap. Available in eucalyptus, almond, rose, citrus, peppermint, lavender, tea tree, and unscented, you're bound to find a scent that appeals to your senses.
Ingredient-wise, Dr. Bronner's soaps are certified organic by the USDA and certified vegan by Vegan Action. Packed full of organic oils that smell (and are) fresh and natural, you'll leave the shower feeling clean—never covered in a thin, slimy film.
Free of synthetic detergents and preservatives, you can feel good about purchasing this product knowing it's as safe for you as it is for your loved ones!
Buy It On Amazon: Dr.Bronner's 18-in-1 Castile Soap
Kirk's Original Coco Castile Bar Soap
If you prefer a bar soap but are looking for a castile option, consider Kirk's Original Coco Castile bar soap. Available in unscented, original fresh scent, and aloe vera, this no-frills soap option is free of sulfates, phthalates, parabens, animal by-products, silicones, and a whole bunch of other stuff you don't want to be covering your body in.
Like Dr. Bronner's, this soap is biodegradable and never tested on animals. Reviewers rave about the quality of Kirk's soaps, mentioning that it never leaves a nasty film or soap scum residue. One reviewer mentions that this is a great option for soft water, and it doesn't leave you with the slimy feeling that typical soaps do.
Buy It On Amazon: Kirk's Coco Castile Bar Soap
Dr. Squatch Men's Cedar Citrus Soap
With scents like cedar citrus and gold moss, Dr. Squatch soaps are designed with men in mind. However, that's not to say women can't enjoy them too! All the soap is handmade in the U.S. in small, cold-process batches.
As for ingredients, Dr. Squatch is made out of natural glycerin and is chemical and preservative-free. Made out of saponified oils of olive, coconut, hemp, and non-GMO soy, reviewers mention that this soap both cleans and exfoliates the skin well.
Buy It On Amazon: Dr. Squatch Men's Cedar Citrus Soap
Wild Herb Soaps
With over 12,000 five-star reviews, this is easily one of the highest-rated natural soaps on Etsy. Made out of sustainably-sourced palm kernel, extra virgin olive oil, bran oil, and mango butter, this soap is both hydrating and cleansing. Choose from a variety of scent combinations such as honeycomb orange, green tea and aloe, lime, spearmint, and lavender.
Reviewers mention that their skin has never felt or looked better, and some claim that it helped clear up their acne!
Buy It On Etsy: Wild Herb Soaps
Everyone Soap
Shampoo, body wash, and bubble bath all in one! Why buy a whole plethora of organic body washes when you can buy just one that everyone in the family can agree on? Everyone Soap is affordable at $10 for a 32-ounce bottle and still features a formula that is paraben-free, non-GMO certified, and cruelty-free.
Each bottle of Everyone Soap is packed full of essential oils like lavender, peppermint, rose, ylang-ylang, lemon, and rosemary, leaving a fragrance that is nothing short of natural and fresh without being overpowering. I haven't yet had the opportunity to try these out, but at $10 a pop, I might as well! Everyone 3-in-1 Soap is available in coconut + lemon, citrus + mint, and lavender + aloe.
Buy It On Amazon: Everyone Soap
Raw African Black Soap
If you're ready to ditch traditional soap as you know it and try something totally different, you should check out raw African black soap. Made out of plantain skin, tropical honey, cocoa pod powder, palm oil, and virgin coconut oil, African black soap is said to clear blemishes, soothe eczema and psoriasis, and create smoother skin.
The product is made entirely in Ghana, where the commercial production of palm oil is restricted. Rise 'N Shine online assures customers that there is no slave labor or unfair business practices used in the making of their products. One reviewer mentioned that this soap lasted them up to six months, and a little goes a long way!
One thing to note is that the soap itself is not aesthetically pleasing and that the soap should be lathered and applied to a loofah or washcloth rather than using the bar directly on your skin. When in doubt, check out this beginner's guide to using raw African black soap.
Buy It On Amazon: Raw African Black Soap
Mrs. Meyer's Clean Day Daily Bar Soap
If you love Meyer's clean day hand soap (I have a bottle of it in my kitchen), check out their all-purpose honeysuckle soap. Made out of a 100% olive oil base and orange and ylang-ylang oil, according to reviewers, this soap lathers and cleans well. If bar soap isn't really your style, they offer this same scent in a body wash as well.
Buy It On Amazon: Meyer's Clean Day Everyday Soap
Goat Milk Natural Liquid Soap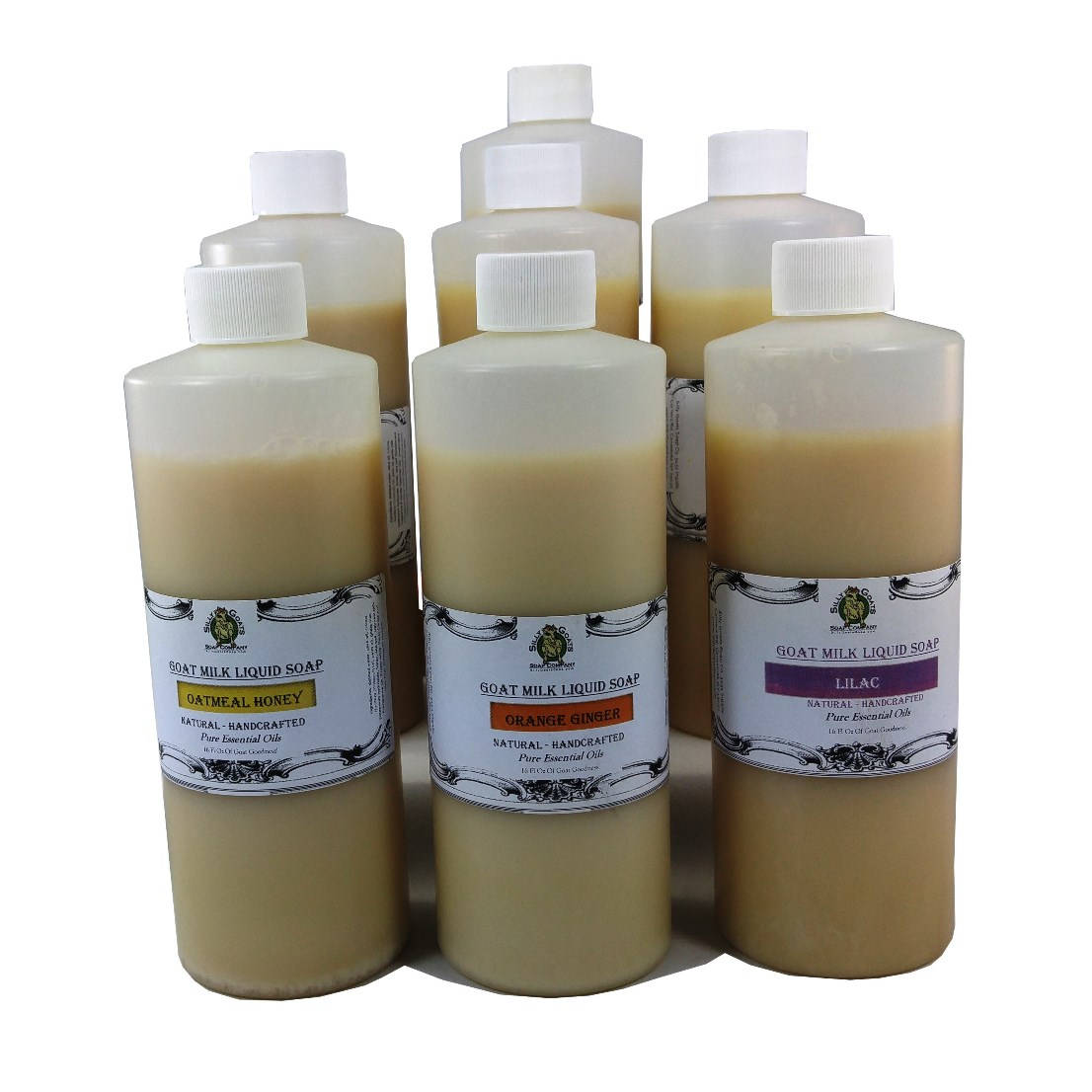 Between cheese, milk, soap, and yes, even yoga, goats really have their work cut out for them lately! Available in a variety of scents such as lavender, sandalwood vanilla, orange ginger, and lemon mint, this liquid soap is handmade in Canastota, New York by a grass feed herd of Lamancha goats. Made out of coconut oil, shea butter, olive oil, and pure goat's milk, the soap is both moisturizing and lathers well.
Note that this soap is ideal for hands and best dispensed from a foam dispenser. Is liquid soap not your thing? No problem. They also offer their soap in a bar form.
Buy it on Etsy: Goat's Milk Liquid Soap
Activated Charcoal Natural Soap
Activated charcoal offers a whole host of benefits, but most notably, it's known to treat both oily skin and acne. This activated charcoal soap is made out of coconut oil, olive oil, castor oil, shea butter, and essential oils. Reviewers mention that its gentle on sensitive skin and moisturizing.
The soap is all-natural and contains no dyes, preservatives, or artificial fragrances. Keep in mind that since these soaps are all-natural, they have a shelf life of approximately six months to a year.
Buy it on Etsy: Activated Charcoal Soap
Soy Milk, Oatmeal, And Honey Natural Soap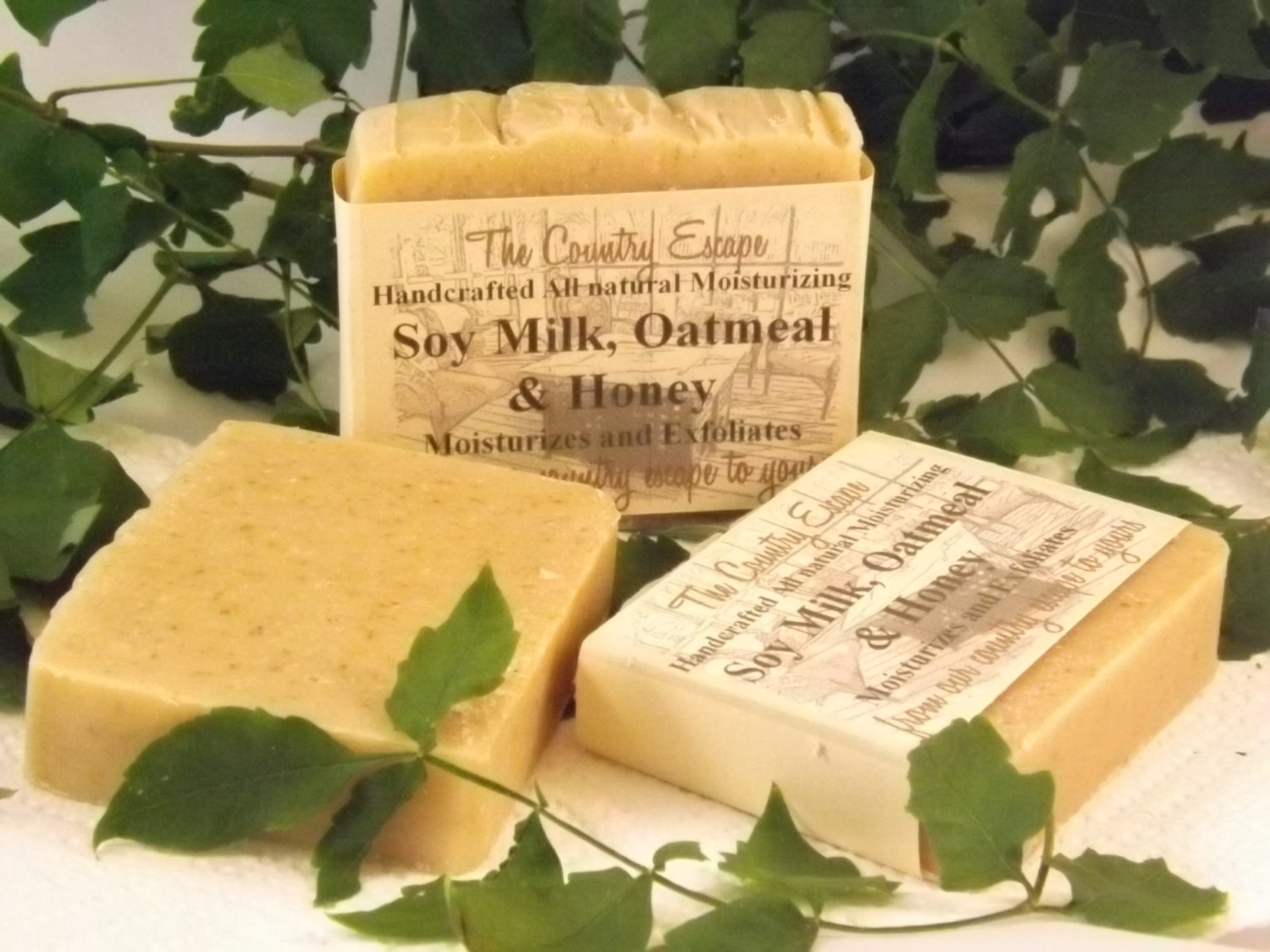 Made out of a variety of natural oils, soy milk, oatmeal, and honey, this natural soap is handmade in small batches. Every ingredient in this soap was added for a specific purpose. Jojoba oil is used to moisturize the skin, Morrocan argan oil is added to reduce inflammation, and vitamin E and sweet almond oil are used to improve complexion.
Reviewers mention that this soap lathers well and leaves the skin soft and moisturized. The soap doesn't contain any artificial fragrances or dyes, and all the ingredients are natural and organic.
Buy it on Etsy: Soy Milk, Oatmeal, & Honey Soap