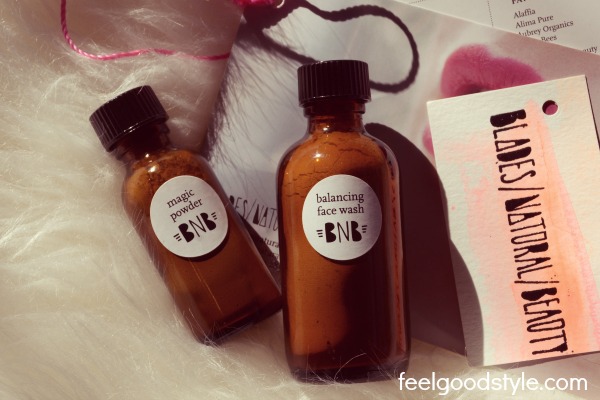 I have cyber-known Jessa Blades for a while now, living in the world of online organic beauty. Jessa is a makeup artist dedicated to nontoxics and when I heard she created her own skincare products, knew I had to try them.
Jessa generously sent her Healthy Skin Essentials for me to sample. A little bag of eye candy ready to be used and reviewed. Just look how cool + pretty her packaging is! All peachy pink and lovely. And those cards aren't just for looks. On the back of each find how to use, shopping, and safety tips straight from Jessa.
Ok, so on to the products, which by the way come in brown apothecary style bottles:
Magic Powder – Here is what Jessa has to say about this product, which is why I tried it first: ~I don't leave home without a jar stashed in my makeup bag…it helps to detoxify and balance the skin while unclogging pores. Got a bug bite? Simply apply the paste…and let dry. NO more itching. Forget your toothpaste? Use it to brush your teeth. Works like magic.~  I mean, c'mon, gotta try it immediately, right? While I have no bug bites (Midwest, winter…) and  have yet to try it as a tooth powder, as a facial treatment it does the trick. Mid January my skin was looking sallow and in need of some rejuvenation. It had been a long week (migraine, daughter's birthday planning, late nights, early mornings, too much sugar) and I needed a quick pick me up. On my way to the shower I applied a layer of this powder mixed with a bit of warm water. After a few minutes I hopped in and rinsed. Just what my skin was looking for, instant resuscitation!
Magic Powder is made with french green and kaolin clay. These clays are super beneficial to those dealing with acne and breakouts, but also brightens the skin and tone down inflammation. If your skin tends to be sensitive, I recommend not leaving the mask on quite as long. You will reap the benefits of the clay without any irritation.
Balancing Face Wash – I'll admit, it's hard to get too excited about face wash. Hold on, this one is not your ordinary wash. First off, it is a powder. Yep, organic milk powder + garbanzo bean flour to be exact. And it happens to be the prettiest facial wash I have ever used, due to the soothing rose and calendula petals.
This wash is super gentle and soap free, so non drying. I like to use it at night, when my skin needs light cleansing. Try mixing in a few drops of oil (olive, sweet almond) for added hydration.
Stop over to Jessa's store and check out the other items she carries. Some of her own and some from other skincare creators. To read her blog go to Heirloom Beauty.