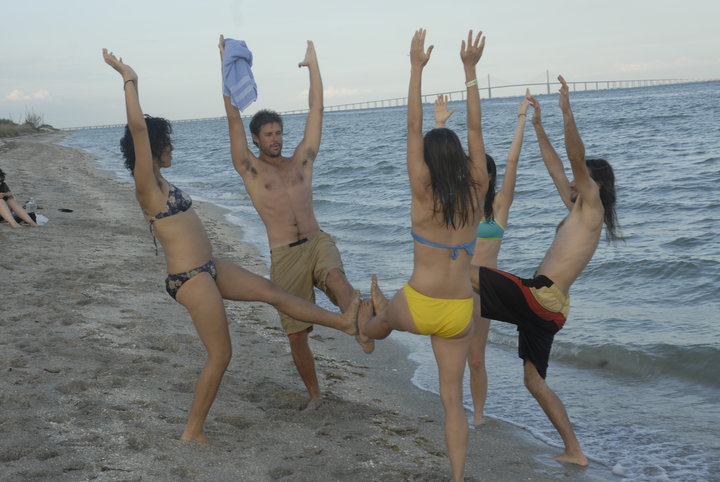 The style of the organic farmer cannot be captured in one form. All farmers are not cut from the same cloth, yet, there are some qualities that prevail in all the organic farmers I have known and worked with through three decades of buying from farms.
Like different versions of Luke Skywalker balancing the force, they embody such naturalistic intelligent energies that they become as forces of nature themselves. Lee Clarkson works for a fresh and optimistic farm. This farm and it's support system combines pragmatic innovation with the will of farmers and community through a new type of agriculture program. Hopefully, programs such as this will be sprouting up as a new wave of life support via co-operative agricultural efforts.
[social_buttons]
Young farmers, getting involved, link their muscle, spirits, and work with farms such as Geraldson Community Farm in Florida, the Community Supported Agriculture (CSA) program linked with Florida West Coast Resource Conservation Development Council. This nonprofit is working with both consumers and farmers because, as they point out, "Local food and agriculture is becoming one of the most important issues of our times.
Companies such as Monsanto have promoted a blind eye of information, lack of consideration, lack of understanding, lack of integrity concerning holistic health which starts with our water and soil. Our soil becomes nutrient rich produce supporting our bodies [minds and spirits] as it feeds and keeps the integrity of our cells. There has been a wedge of death in our farm systems with depleted soils due to agendas of big business. This can be overcome with real consideration of agriculture such as found in CSA.  Our globe via land can stop the use of toxic chemicals and instead seek healthy intervention for crops using sources, such as the beautiful lady bug, to control pests. The toxic chemicals used need to be on the way out with rejuvenation on the way in. Efforts and structures such as CSA have continued a wave of protecting the land that was identified and promoted by Rachel Carson in Silent Spring.
Organic farmers have been considered eccentrics in our society who veer away from the maddening crowd to bond with land, water, and seeds on a multidimensional level of life. They keep the connection to life direct, honest, and simple. They are not extremists, but the real conservatives in a agrarian sense. They seem eccentric because we, as a world, have lost touch with conservation and reciprocity in consideration of dirt, water, and plant life. Lee Clarkson, working for Geraldson Farms a co-operative agricultural effort in Florida, had the prowess of a young Yogi practicing thoughtful work and action in his life. He is gentle natured, soft spoken, passionate, and strong.
Hold Fast, don't give up, the ideology of pragmatic idealism in realism, hope, and progressive change back to good form in our food sources with respect and nurturing of soil. Thanks to Lee and all the young yogi farmers of this generation who are making it possible to reconnect with rejuvenation in perceptive thought and action on cellular levels. Sustainable culture may begin to breath again and breath life into all culture with nutrients from the vitamin mineral rich foods provided by organic farms and farmers.
Photo Credits: Allen Weber, Cynthia Shahan