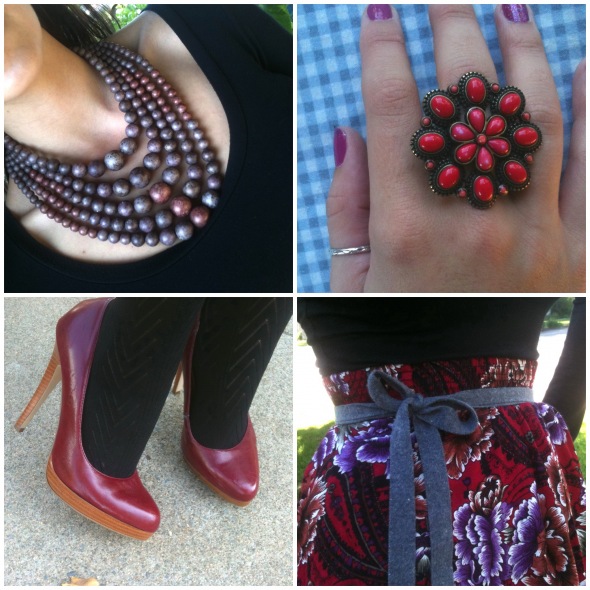 When it comes to the art of thrifting, many of us find ourselves at a loss. We're not sure what stores to try and shop, and what we should avoid. Not to mention, once we're there, what rack to start at, where to find certain brands or how to know if something is truly a bargain or not. Lost in a shopping coma somewhere between vintage Jimmy Choos and pilly Gap sweaters, where in the world do we start?
Kari Shipman is here to help. Better known by "Juniper James," the name of her company, and her childhood imaginary friend, Kari is an independent fashion stylist and blogger in Sacramento. Specializing in all things thrift, second hand and unique, she's a wealth of information for those of us that aren't sure where to begin. Not to mention, she's an expert at throwing together an outfit for almost any occasion with less than $20.
I sat down with Kari and asked her a few questions about thrifting successfully.
Here's five of your most common thrifting questions answered by the expert:
1. I don't "thrift" – where do I start?
Start online! Not only can you find the thrift stores near you, but you can read reviews and tips from other shoppers. With thrift, or consignment, every store has their own standards for organization, the kind of products they sell, where and how they get their products, and whether or not they support a charitable organization. Decide what matters to you as a shopper, and choose accordingly. Pick stores that are near your home or work that are easy for you to stop by regularly, and keep an open mind to the possibilities.
2. I went to this thrift store once and it was gross and dirty. It just kind of creeped me out.
15-20 years ago, totally understandable. But they're not all your grandma's thrift stores anymore. There may be a few misses, but for the most part, thrift stores have stepped it up. You have to understand though, that being secondhand, there is always an element of pre-ownership to any item. If you require perfection from anything you purchase, then thrifting may not be for you.  Know what you're willing to put into an item you purchase secondhand to get the best out of it. Maybe it's a little elbow grease on polishing an antique lamp, or hemming a great pair of pants that are just a smidge too long. Keep in mind that the prices you're paying to purchase a piece that needs a little reviving are usually worth the return for a great item that you only paid pennies on the dollar for.
3. Thrift Stores are overwhelming to me. I walk in and don't know how to navigate.
Don't start out thrifting on a day when you only have a few minutes to browse. If you follow our tips in order, then start out in a well-reviewed store near you, and give yourself plenty of time to browse every section. Thrift employees often work there because they really do love secondhand. Ask them to show you where a certain section is, if they recently put out anything interesting, or what their favorite area of the store is.
4. I went into a thrift store looking for a particular item and couldn't find it, so I gave up on it.
As opposed to shopping at conventional big box stores, thrifting is more of an ongoing art. There are some stores that are stocked full of quality products that are really organized and you can walk in and know within 5 minutes if they have what you're looking for or not. But that's not necessarily the norm. Think of secondhand as the creative flair to your home or wardrobe. If you need a particular item in the next hour, a thrift store may not be your best bet. But start an ongoing list of fun, interesting things you'd like for your home or wardrobe, and when you have time, take your open mind and give thrifting a shot.
5. Any tips on finding treasures?
When it comes to clothing, check if they have a "vintage" section or rack. Some stores also have a "betters" rack, with items that still have store tags, or are just higher quality pieces. For clothes, my best tip: always check the go-back rack near the dressing room. Someone else looked through the racks and wanted those pieces, they just didn't fit right for whatever reason. Some of the best finds are right there, proving again that just because it wasn't the perfect fit for someone else doesn't mean it's not a treasure to you.
Follow Juniper James online.