Choosing a face wash can be tricky. Not only is skin one of the most sensitive organs in our body, but the face is even more so! One wrong ingredient or chemical can cause redness, irritation, or peeling.
Whether you have dry skin, oily skin, or skin that's prone to breakouts, if you're at all like me, you try a different face wash every time your last bottle runs low, just to find one that is perfect for your skin type.
In my personal experience, I've found traditional face wash leaves my face dry, dull, and gives it that annoying tight feeling. And when I researched more about the chemicals found in face wash, I chose to switch to a natural option not only for myself, but for the planet, too!
Here are my picks for some of the best natural face washes you can buy on Amazon. While I have tried most of these, some have been recommended to me by friends. As with any skin care product, test a small bit of it on your arm before using it for your entire face. Trust me, you'd rather have a small red spot on your arm than an entire red face.
Avalon Organics Intense Defense Cleansing Gel
If you're a lover of all things citrus, consider giving this face wash a try. The scent is really refreshing and will wake you up in the morning, and it smells just like a fresh orange. There's no harsh chemical smell at all, and I found that when I used it, it gave me a deep, pore-opening clean.
That being said, as I kid I was always sensitive to strawberries in skin care products, and unfortunately that was the case for this product, too. So if you have sensitive skin, I'd err on the side of caution and give yourself a little test on the arm before applying it to your face. And trust me, if I didn't have a reaction to this face wash, I would probably use it every day, the smell is so good.
Alaffia Everyday Coconut
For a no-frills, mild-scented face wash from a company that supports a variety of charitable projects, the Alaffia everyday coconut face wash is what you want. In my experience, the scent was very natural and not overbearing.
The formula is made with coconut oil, so you know it's going to moisturize your skin well, and it's free from parabens, dyes, and sulfates, too. And good news animal lovers – it's vegan!
Some reviewers with sensitive skin mention that it gave them redness, but I consider myself to have somewhat sensitive skin and I didn't have a problem with it.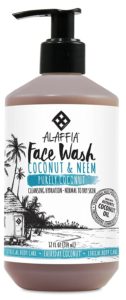 Alba Botanica Hawaiian Coconut Milk Nourishing Face Wash
This is actually the face wash that I have in my shower right now, and it's not the first time that I've used it. In fact, it's one of the only face washes on this list that I've returned to after the first use. And for good reason!
It smells amazing, it doesn't leave my skin feeling tight and icky, and the coconut oil leaves my face feeling super moisturized. And while it does feel moisturized, it doesn't feel oily or greasy like a lot of other face washes do.
https://www.instagram.com/p/BAxgyp2MHqK/?taken-by=albabotanica
However, with all those positives said, I wouldn't recommend this face wash for people who aren't too keen on smelly soaps. It definitely smells super coconut-ey and very tropical. And this tends to be the case with most Alba Botanica products. Personally, the scents all smell very natural to me, so it's not an issue of "fake" or "chemical-ey".
Burt's Bees Face Cleanser For Sensitive Skin
I haven't tried this specific Burt's Bees face wash, but the one I did try was super mild on my skin, didn't leave any irritation and was also made with cotton extract like this one is. This cleanser is specifically made for sensitive skin and is fragrance-free, so it may be a good option for people who aren't all about smells.
Avalon Organics Brilliant Balance Cleansing Gel
This is another face wash from Avalon Organics that I really love, and it doesn't make me break out or turn red! The lavender and cucumber formula is very mild and nourishing, and lavender is a great ingredient to calm skin, too. The formula is vegan, non-GMO, and hypoallergenic, so it's a pretty good option for just about any skin type.
The one caveat is that it's a gel rather than a cream, so it's not necessarily the most moisturizing of the bunch. That being said, it didn't leave my skin dry or tight so the lack of creaminess really wasn't much of an issue. Plus, Avalon has a bunch of moisturizers to choose from, too!
Acure Brilliantly Brightening Cleansing Gel
Acure is one of my favorite skin care brands! I just used a face mask from them the other day, and my skin is still thanking me! But my personal obsessions aside, let's talk face wash. I've tried a variety of their face washes when staying the night at friends' houses, but I've never actually used it as a daily face wash.
In my experience, the formulas have always left my skin feeling very clean and moisturized, never dried out or tight. All the scents are pretty tame, certainly not perfume-y. This specific face wash is recommended for normal to oily skin and is also said to do a great job of removing makeup.
Andalou Naturals Meyer Creamy Cleanser
Andalou Naturals seems to be the natural brand that is trying to rival traditional face washes, featuring formulas with vitamin C and "fruit stem cell science". A lot of their products are aimed at consumers who are interested in anti-aging properties, with a lack of the traditional chemicals that seem to be in so many of those products.
While I haven't used this particular scent, I was using another Andalou Naturals creamy cleanser, and I personally found it to be too creamy. So much so, that I didn't feel like my face was ever really getting clean. However, I did end up using it as a makeup remover, and it worked like a charm! I also opted to combine it with another cleanser and it left my face clean and really moisturized. I think this would be a great cleanser for someone with dry skin.
Yes To Cucumbers Gentle Milk Cleanser
What I love about the Yes To product line is that there are so many products that compliment each other and can be used as an entire face regimen. I haven't tried the face wash, but I've tried lots of other products from Yes To and they have all been good experiences.
The cucumber scent is clean and not too strong and is great for sensitive skin. If cucumber isn't your thing, though, they also offer carrot, tomato, blueberry, and coconut.