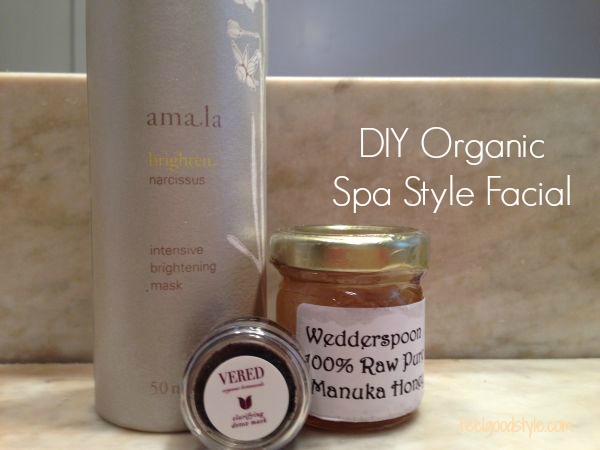 I've been waiting to create this 3 step facial and last night was the big night. Waiting because I had selected the organic products I wanted to use and the third arrived in yesterday's mail. No more waiting, my daughter and I treated ourselves to a spa style facial and loved every minute of it. Here are the details.
The 3 steps to this facial consist of exfoliation, extraction, and hydration. I used Vered Cacao Vanilla Beauty Mask , Wedderspoon 100% Raw Organic Manuka Honey Active 16+, and Amala Intensive Brightening Mask, in that order.  Thanks so much to all of these brands for sending samples of their lovely products for this experiment!
The first step rids skin of dry dead cells so only healthy skin gets the treatment. Exfoliation also means no flakes or places for dirt and oil to hide. The Vered mask is slightly granular (thus great at exfoliating) so we massaged onto skin gently then let it sit. We could actually feel some heat coming off of our skin while we waited. Whether from the cacao or the massaging, who knows. But it felt good.
The second step sucks the oil and debris from pores, leaving behind clear skin. Because I am using the manuka honey, it is also incredibly softening. You can just feel the healing properties soaking into skin.
Third, some pampering hydration. The Amala mask goes on like moisturizer and leaves skin so smooth, plumped, and just plain radiant. I topped things off with my favorite moisturizer and a dab of Suti Rejuvenate Organic Face Oil.
The result: Amazingly bright and fresh skin, more even skin tone, clear and smaller pores. My daughter thought it looked like I had a slight tan, which I do not. Just the glow of a healthy facial. And still sporting the luminous skin and invisible pores the next morning.
We left each mask on for approximately 10 minutes. But feel free to go longer, especially with the second step. I'd also use any of these masks on their own when in need of specific treatment.
Will definitely add this 3 step treatment to my beauty arsenal and whip it out when I have a big event or just want some extra care.