Many of you visit to find the latest, best and most effective natural and organic beauty brands amongst other things. Organic beauty is one of my favorite topics and one I'm passionate about.  And I don't know about you, but I value honest recommendations from fellow consumers much more than I do when it comes from an owner or employee of a business.  And I know I'm not alone, otherwise Googling "review of X product" would not be the common pastime that it is.  So with that in mind, I'm bringing you the real deal about NatureOfBeauty.com. I'll clue you in on which products I'm loving right now, the scoop on two hot brands they just launched, share my Christmas gift ideas and divulge how to get free shipping and 15% off your order.


What I'm Loving
Santaverde Aloe Vera Cleansing Gel
The base of the entire line is organic aloe vera, not water like most. What's most impressive is the way its carefully cultivated…by hand, which is why its not cheap. This produces a light foam and I love that it smells like candy. Cleans thoroughly and leaves behind a fresh and soothed complexion. Great for normal/combo & oily types.
Santaverde Aloe Vera Hydro Repair Gel
Sinks in immediately, no residue whatsoever and perfect to use alone for oily types or under a moisturizer if you have combo/normal or dry skin. Also smells like candy! (And I like the clean & simple packaging; matte, creamy white tubes with deep fushia and grey text).
I add a few drops of this to a sinkful of warm water, hover my face above it in the steam and throw a towel over my head to open up pores to prep for a facial mask. I feel relaxed and my face glows after this at home spa treatment.
Removes shadow, liner & mascara quickly & easily without any irritation. Only a drop or two is needed on a cotton ball or Q-tip so I imagine this bottle could last up to a year.
Equally effective as a spot treatment or all-over moisturizer for blemished conditions. Many blemish treatments tend to be very drying, but not this. I use at night and in the morning my skin feels totally hydrated and redness and spots disappear. It has a faint mint smell which I like. Wish this came in a bigger size because I like it that much. This is one of my new top favorite products!
 
Suki Sensitive Cleansing Bar
Its no secret I'm a HUGE Suki fan so I was eager to try out their new cleansing bar. Once again, Suki doesn't disappoint! Smells a lot like the lemongrass Exfoliate Foaming Cleanser I'm addicted to and I like to use this at night to wash off the day (face + body). I'm impressed by how much it foams, how creamy it is, that its long-lasting and that my husband willingly uses it too (in fact, he asks for it when its missing from the shower).
Rave Reviews
What woman doesn't have a great affection for her concealer?  Still looking for the one?  Although I haven't tried them yet, earlier this year Elle Magazine named Sante's Concealer Pencil the #1 Best Concealer in their Green Beauty Stars category and Allure Magazine awarded Jane Iredale's Circle/Delete Concealer the Best Concealer in their Natural Sections category (which of course means I'm going to have to try them both now to see for myself).  Good news!  You'll find them both at NOB. 
Just Launched
Just today Nature of Beauty launched Intelligent Nutrients, the much anticipated USDA and/or Soil Association Certified Organic skin, hair & body line from Aveda founder, Horst Rechelbacher. This is of course great news for NOB, who is among a very select & small group of retailers authorized to carry the line. 

Fun Fact: At the introductory lunch on June 11th in NYC, members of the press were shocked when presented with a special cocktail; a wineglass full of Intelligent Nutrients Perfect Hold Hairspray topped off with Pellegrino. Why you ask? "Hairspray is one of the most problematic beauty products in terms of toxins. I wanted to prove to the world that it's possible to make a great one that's also absolutely safe" said Horst. Apparently they still didn't dare drink it (though he did), but they did use it as hairspray. The verdict? According to Lucky mag's September issue: "Fantastic touchable hold and an amazing scent to boot". Find the entire line here.
Note: I was the first to break the news about the I.N. launch back on June 11th.  In case you missed it, you can find the article here.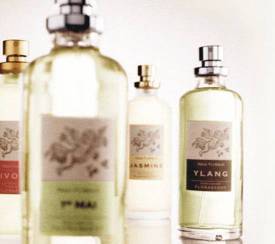 Nature of Beauty also recently launched Florascent Parfumeurs, a totally pure and botanical perfume line made from only from organic essential oils, aromatic waters and pure plant extracts in the 17th Century European art of perfumery.  You'll find absolutely none of the typical toxic offenders of conventional perfume like phthalates, artificial fragrance or color and absolutely no petroleum-derived chemicals. 
 What You'll Find
+60 day return policy.
+Large selection of try before you buy samples.
+Easy to navigate & search.
+Entire brand product line-up.
+Extensive cosmetic selection.
+Clean & fresh look.
+Checkout is a breeze.
+Know when your goods ship & receive a tracking number!
(BIG pet peeve of mine to not automatically receive a tracking number when my goods ship so I can keep tabs on the expected delivery date!)  *Only applies to UPS & FedEx, not USPS.
Behind The Brand
I discovered NatureOfBeauty.com several months ago and had the pleasure of trying many products they carry. Just last month, owner Terri Bly joined our very own editorial team here at Feelgood Style and I recently had the opportunity to ask her a handful of questions:
Q: What were you doing before NOB and what prompted you to open up shop?
A: I am a licensed clininal psychologist and was working in two very separate areas, and they both came together to create Nature of Beauty. One of my jobs was conducting selection assessments for large companies like Target, and so every day I was speaking with some of the best marketing, merchandising and finance people in the retail business, from all over the country. I felt like I was getting my own mini-MBA in merchandising and I loved every minute of it. I never realized I would love retail so much, but with every interview it was becoming clear that this was something I was heavily drawn to. And then, for something completely different, I was working with gastric bypass surgery patients. My dissertation, actually, was on obesity and gastric bypass surgery, because I really wanted to understand what it was like to suffer from obesity and make the choice to have the surgery. Anyway, it was through this work that I stumbled upon some research showing that some of the estrogen-mimicking chemicals that are in our cleaning products and, as it turns out, in our beauty products – may be related in some way to both our physical health (meaning our weight) and our emotional health, since we know that hormones affect emotions. But it wasn't until I read Not Just a Pretty Face and learned the extent to which we know nothing about what our beauty products are actually doing to us that I decided to start NOB. It was such a perfect way to blend my growing love of retail with my passion for health education and my love of all things beauty-product-oriented. I was a Sephora junkie who has every "Best of Beauty" edition from InStyle for the past 10 years. And I have to tell you, I never imagined you could marry those three interests.
Q: In your opinion, what's the biggest misconception about natural beauty products?
A: Easy. That they don't "work." Granted, I'm not even sure what "work" means, but I know people don't think they work as well. And to an extent, they're right, if by working they mean your mascara won't stay on for 9 days, or that your lipstick won't hold up through a trip to Old Country Buffet. When it comes to skin care, I don't think people realize their skin will probably look and feel better if they switch to natural and organic skin care and that companies use chemicals not because they're so much better but because they're so much cheaper. I think many women still think of natural makeup as it was 10 years ago, offered only in boring neutrals with no shimmer and no glam, and that they'll have to reapply it in 20 minutes. But my friend and celebrity makeup artist Christy Coleman is using nothing but natural makeup on her clients, including Sheryl Crow, Emmy Rossum, January Jones – oh, and Giada De Laurentis on this month's cover of Self!! And I don't think you look at the cover of Self and think, "Huh, that's totally not normal makeup." It just takes a few tries to find what works best for you. We forget that it took most of us decades to find the stuff that works best for us, so we think that if we don't like the first natural foundation we try, it must be that natural foundation doesn't work, rather than that the particular brand we tried isn't the best match for our skin.
Q: Online natural/organic beauty boutiques seem to be popping up all the time. What sets NOB apart?
A: For starters, we have by far the largest selection of natural and organic cosmetics. I think we're up to almost 150 lipsticks alone. And we consult with Christy all the time, to make sure we're chasing after the best brands out there. I also think I have a unique background that allows me to incorporate some health education into what we do, rather than just focusing on the "glam." I think that's definitely what sets my site apart from the others. This industry needed a science geek, a bookish type who would do all of the boring academic reading stuff that most people don't find quite as fascinating as I do. I'm trying to raise awareness and educate, rather than just talk about which products I'm loving these days, although I do that too. And we worked really hard to create a website that is simple and easier to navigate than most. I love what everyone in this industry is doing, so I don't want to sound like I'm tearing down my competition. There are some great sites out there and I think we're all making each other better by continually raising the bar. The result is that more and more people are switching over to safer products, which is why I started the business in the first place. Whether they get their products from me or someone else, I just want them to be buying safe products for themselves and their families, and giving the commercial industry the message that it's time for them to rethink their own products.
Q: What are your top recommendations for…
A: Acne/blemishes:I have been using Logona's Clear Skin Blemish Stick and Blemish Fluid, especially around my jaw line because in winter I am attached to my scarf and tend to pay for it with pimples around my jaw line. So far it's been working really well.
Dry skin: Santaverde for sure. They have three versions of their face lotion – light, medium and rich – so you can bump it up to whatever level of moisture you need. now that it's cold, I've switched over to the Medium, and will probably ramp it up to Rich soon. Santaverde has replaced all water with 100% organic aloe vera juice that they grow on their own farm and hand harvest and hand roll, so that there is not processing of the aloe vera juice and so you get all of the healing and moisturizing benefits of the aloe vera.
Aging: Logona's Age Protection line is great. And I'll admit, although I was really skeptical that any topical cream could minimize fine lines and wrinkles as they all claim, I was a little stunned to look in the mirror the other day and notice that the lines around my eyes really do look less pronounced, to it's quite possible that stuff actually works! I also love Organoderm's Younger Eye Gel. suki's nourishing line of products is pretty fantastic too.
Sensitive: Organoderm's foaming facial cleanser, hands down. For a complete line of products, Living Nature's Balancing line is gorgeous. I'm completly addicted to the earthy aromas and how soothing the Manuka honey feels on my skin.
Troubled (eczema/psoraisis): Suki's balancing line of products seems to work great on troubled skin. For body, I have two products that seems to do healing wonders on trouble spots – the Living Nature Rescue Gel and Santaverde's Hydro Repair Gel.
Combo/normal: Again, Organoderm is great for normal skin. Logona also has a great selection of products, their Combination Skin line of products with Mint. Logona really does not get the recognizing it deserves in the U.S. They were the pioneers of natural personal care, starting back in the '70's alongside Hauschka, but because they haven't done the marketing push they should have done here in the U.S., people don't realize what high quality stuff this is. They do more testing and research than nearly all of their competitors and their products are easily among the most reliable in the industry.
Q: What are your all-time faves?
A: Again I'd say Organoderm for their facial cleanser, night cream and eye gel. I love Logona's pencils, blushes and face powder. And Max Green Alchemy shampoo and conditioner are by far the best you'll find in the $15 price range. Sante has done an amazing job creating fabulous products for reasonable prices. Considering everyone is worried about their finances these days, to be able to say that our $16 eye shadow trio in Terra was compared to Chanel in The Green Beauty Bible is pretty amazing. Sante's hair gel is my favorite hair gel, natural or otherwise. Their Brilliant Care Conditioner is also a huge fave of mine. And I'm wearing the mascara right now. It's a perfect line for teenagers, too, as the packaging is meant for younger buyers and the colors are, too. But it's the Intelligent Nutrients hair spray that has been the life-changer. Finally, an all-natural (not to mention USDA certified organic) hair spray that actually works as well, if not better, than the commercial stuff. Oh! and I can't forget my new favorite perfume: Ylang by Florascent. Those are such beautiful products. I know I'm leaving out some that deserve mentioning, but I'm guessing you want me to try and be at least a little bit succinct.
Q: Anything else you'd like to add?
A: I was having dinner with one of the women who's about to take natural beauty to the next level of mainstream, and she said to me, "Isn't it exciting to be at the forefront of this movement?" I think that's been the greatest moment for me so far – to be considered one of the women at the forefront of what I think is the most important movement for women since the bra-burning era of the 1970's.
Gift Ideas
1). Recycled Cosmetic Bag filled with Suki, Logona & Living Nature samples $9.50 (I snatched two of these up for stocking stuffers last week!).
2). Florascent Perfume Gift/Trial Set $24.99

3). Suki Revitalizing Essentials Travel Kit or Winter Skin Hydration Kit $30
4). NVEY ECO Every Occasion Gift Set $99
Free Shipping + Discount
Now through 12/24/08 everyone gets free shipping on orders over $50. To get 15% off your entire order enter coupon code FGS15 at checkout until 12/31/08.