by Samantha Abrams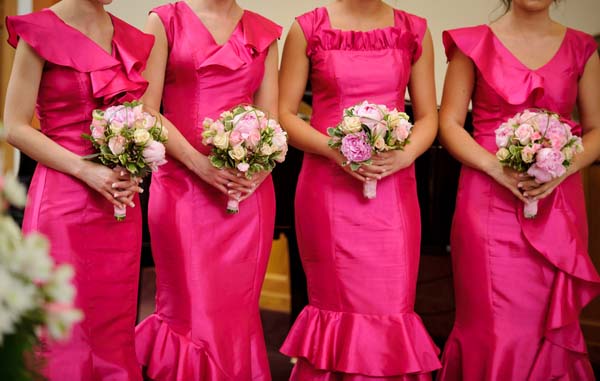 Cut waste and save closet space with these ideas!
My closet has accumulated quite a few formal dresses that don't really work for any other occasion: bridesmaid's dresses, high school formal gowns, etc. I felt a little guilty about the waste of money and resources, so I decided to do something about it. Here are a few of the better options I've found to repurpose an old formal dress or at the very least make sure it doesn't head straight to the landfill.
1. Scrap it
If you're good with a needle, a prom or homecoming dress can be a gold mine of valuable fabric, including silk, satin, and chiffon. This is especially true of quinceanera dresses, which tend to have even more layers of flounce than a typical formal gown.
There's enough material in a typical formal dress to create pillowcases, skirts, or even flirty lingerie if you're careful. Leftover scraps can make quilt squares, accents for other outfits, belt ties, or ribbon for other projects. Get tips from a tailor, experienced friends, or find patterns online for inspiration. If you're not a seamstress, but you know someone who is, ask them if she'd like the fabric for one of her projects.
2. Alter it
In the past, prom gowns in particular were so decidedly "prommy" that it was hard to imagine them being useful for anything else; but 2012 pageant dress styles are designed to be more understated and mature, so they're easier to modify for other occasions.
Sometimes all it takes is a raised hemline and trimming away a few embellishments to make a dress suitable for cocktail parties and other semi-formal occasions. If you're stumped, a visit to a professional alterationist can help give you some ideas to make your dress more versatile.
3. Donate it
If you're not a seamstress, donating it can be the best option. Hundreds of thousands of teens live in poverty in the US, and the ability to attend prom with their friends in a lovely dress can make a real difference for a teen.
Services like Princess Project and Donate My Dress start accepting donations in February or March, so you'd just have to hold on to your dress for a few months. Most of these donations are tax deductible, and since the dresses are generally brand new and used only once, they have a fairly high market value to deduct.
4. Sell it
If you want to get rid of your formal gown right away, there's always Craigslist or other online classifieds. This generally isn't the best option unless you need fast cash; formal gowns rarely go for more than 50 to 100 dollars online, so you'd probably do better just donating your dress and taking the deduction.
5. Trade up
The problem of single-use dresses has given rise to an entire dress-recycling industry; services like Newly Maid will accept donated dresses in exchange for credit toward one of their repurposed "little black dresses" that are more suitable for work, parties, or other semi-formal occasions. They'll either recycle your dress and resell it or donate it to one of the charities mentioned above.
Samantha Abrams is a freelance writer and fashion and celebrity blogger over at the Style Cynics fashion blog.
Image Credit: Bridesmaids Dresses photo via Shutterstock