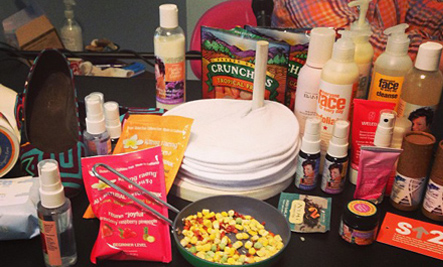 Ok, I know I wrote all about being a non-consumer for Earth Day . . . And I did celebrate Earth Day this year as I have for many years, by unplugging (mostly), not buying anything, cooking nourishing meals, and getting outside as much as possible. It is always a great time to sort out my priorities, and I usually find a bit more balance between my ideals as a green diva and the reality of the world I try to live in harmony with. Let's face it, this is what makes me a green diva!
I strive to be more conscious about everything I do and the potential impact it has on me, my family, my community, animals and ultimately the earth. Seems lofty, right? Well, thankfully I don't have to live off the grid and make everything by hand, which is an awesome concept, but probably not realistic for me at this time. There are companies making progress in providing healthier, more sustainably manufactured products that keep people and planet higher on the priority list.
We get offered products to review EVERY day — some rather large and expensive things like cars, which are fun reviews, but most are practical, every-day things. We have gotten backed up with a nice bounty of great things we chose to review and play with, and finally spent some time focusing on most of them. We decided to dedicate a show to sharing about our favorites, and well, we just didn't have enough time, so there is another roundup coming soon!
Important note: we are never compensated for the reviews, and we only review products that we like and want to recommend. So, while we don't get paid cash, we do have a lot of fun and hope to offer some good ideas for our listeners to try new healthy products that are good for us and better for the environment.
I will list some of the products from this week's review show, but to see the full post by our awesome intern GD Jamie (this was her last show and we will definitely miss her – great job, we love you Jamie)
but for ALL the fun details and witty commentary, please listen to the Green Divas big review podcast!
SHOES
(green divas LOVE their shoes!)
Naya Shoes
Naya sent me a pair of sandals, which didn't exactly fit, so I gave them to our intern GD Jamie as a goodbye gift — she earned them! These shoes don't compromise style, they are fashionable and environmentally friendly, because Naya uses materials that reduce environmental impact. They will definitely go with any summer outfit.
Teysha Shoes
Teysha sent an adorable pair of flats to me, and they are my new go-to summer shoe. The shoes are unique, handmade in Panama and Colombia and help to create jobs for women, who might not have jobs otherwise. A portion of their proceeds got to Global Village Initiative which works to incubate social enterprises, provide educational opportunities, increase food security, create access to technologies, and off set their environmental impact through reforestation and sustainable development.
GREEN DIVA KITCHEN

Pure Sky Living
Pure Sky Living offers an alternative to reusable paper towels. They are durable, 100% all-natural cotton towels that will allow you to finally kick paper towels — and save a few trees! When you buy them just remember to wash them in cold water a couple times, so they become more absorbent.
Wean Green
Wean Green is a Canadian company dedicated to providing safe and environmentally friendly products. There glass food containers are created for babies and kids, but can be used by anyone. They are handy and so much better than plastic containers. An added bonus is that Wean Green is a partner of 1% of the Planet, an organization dedicated to building and supporting an alliance of businesses financially committed to created a healthy planet.
The Original Green Pan
The GreenPan uses Thermolon, a non-stick technology that is heat resistant and will not release toxic fumes. GreenPan products are also cadmium and lead free and emit 60% less CO2 emissions producing Thermolon than traditional coatings. Green Diva Meg got to try the egg expert which makes the perfect breakfast egg.
FOOD & HEALTH
Kaeng Raeng Detox
Read Green Diva Meg's posts about her experience with the 3-day Kaeng Raeng Detox. Kaeng Raeng is an all natural detox meal replacement designed to help you lose weight, remove toxins, bolster your immune system, and improve your digestive system. GD Meg did the beginner level and said she lost a few pounds and just felt better after she got over the initial grumpiness.
Balance Bars
Balance Bar was one of the originators of energy bars and sent us their new Balance Bar Dark. We were like locusts and descended upon the box as if we hadn't eaten in 17 years — I think we loved these. We got to sample the dark chocolate crunch, the chocolate peanut, and the dark chocolate coconut. Green Diva Mizar barely even let the other Green Divas try the dark chocolate coconut bars because she loved them so much.
Bixby Bars
The foundation of Bixby Bar ($15.99 for 4 bars) is pure chocolate, completely free of genetically modified organisms (GMOs), preservatives or added sugars. All their chocolate is combined with exotic spices, healthy nuts and dried fruits. All ingredients are natural or organic and delicious!
Crunchies
For the last two weeks the Green Divas having been munching away on Crunchies ($4.99). We were lucky enough to be sent the Roasted Veggies and Tropical Fruit variety but they have many more and they are all freeze-dried, sugar free, gluten free, with no preservatives and high in fiber. Just beware they are most definitely crunchy!
Numi Tea
After Green Diva Meg wrote about earl grey tea, Numi Tea sent her a package of their Aged Earl Grey, which has already disappeared because she loved it so much. Numi is 100% natural, organic, and uses eco-responsible packaging.
To find out about some wonderful organic, non-toxic, natural skincare products and more, please visit the full post by our awesome intern GD Jamie
for ALL the fun details and witty commentary, please listen to the Green Divas big review podcast!