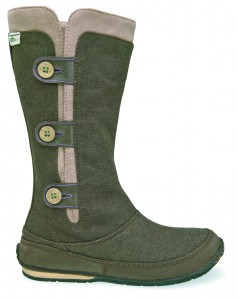 If the snow never fell and the temperature never dropped below forty in New England, I could happily wear ballet flats every work day and flip-flops every day between. But inevitably the first snowy morning arrives to find me ankle-deep in powder, melted ice trickling down my arches as I attempt to clear the snow from my windshield. I realize if I'm going to make it to May pneumonia-free I'm going to need something a lot more substantial–some winter boots.
A slick pair of boots looks current with a knee length a-line skirt, smart under dress pants and fierce over your dark wash skinny jeans. They're the ticket to keeping your feet warm and protected without looking unprofessional or, worse, like you've given up. But who makes a cool-looking, leather-free sustainable pair?
The answer is Simple.
Simple, a sustainable shoe company out of California, makes shoes with progressive techniques and materials that include organic cotton, hemp, bamboo and repurposed tire treads. What's more, the people at Simple are committed to making ongoing improvements to their sustainability. There is a rather precious video on the website, that describes how it all came to be.
While there are a few great styles in their Green Toe line, I chose the Toemale boots in chocolate. They are soft and cozy but not bulky at all, and they stand up to snow quite well–the water droplets bead right up on the hemp upper rather than soaking through. Of course none of this would mean a thing to me if they were plain or goofy-looking. I adore the coconut button detailing and the little bamboo wedge heel. They are refined enough for business-casual, but they look just right with the skinny jeans too–decidedly cooler than their leather counterparts. They sell for $110 on the website, where I have been eyeing the same pair in black.
(photo courtesy of Simple shoes)