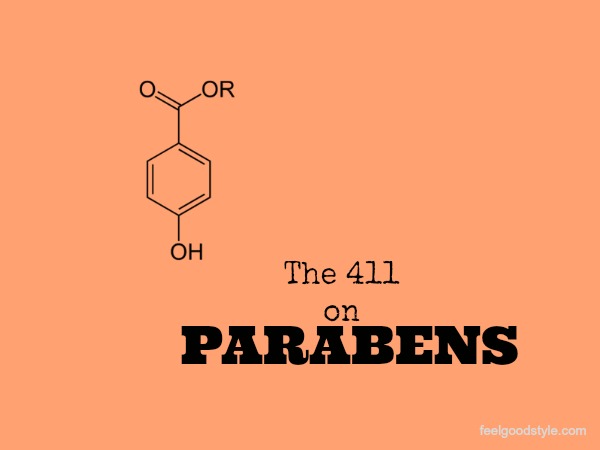 Sometimes I get so absorbed in the reviewing and reporting of natural cosmetics that I forget – not everyone knows why nontoxic beauty products are important.
Whether you are well versed in the whys and why-nots of cosmetic ingredients, it never hurts to brush up on your facts.  With changes in ingredients, ingredient names, manufacturing processes, and regulations a constant, it can be hard to keep up.  Even for those of us who spend our days on this stuff.  In coming months I will cover the main offenders – cosmetic ingredients that are best avoided.
Let's start off with one of the most widely known cosmetic ingredients of concern.  By now you have probably heard of parabens.  But what are they, why are they used and why do we want to avoid them?
What are parabens?
Parabens are synthetic preservatives widely used in cosmetics.  They go by many names – including alkyl parahydroxybenzoate, butylparaben, methylparaben, ethylparaben, propylparaben, isobutylparabens – and are usually found at the bottom of the ingredient listing.
Why are parabens used in cosmetics?
If a product is water based (like body and facial cleansers, shampoos, some lotions and scrubs) it has the potential for the growth of bacteria, mold and yeast. Preservatives are used to limit microbial and bacterial growth, making a product safer.  You surely do not want to use contaminated creams or cleansers on your skin.
Why avoid parabens?
The Environmental Working Group (EWG.org) has linked parabens to cancer, endocrine disruption, reproductive toxicity, immunotoxicity, neurotoxicity, and skin irritation.
Parabens absorb through the skin and have been found in breast tumors in their intact states. While researchers do not have evidence that parabens cause breast cancer, they believe that their estrogenic properties may speed tumor growth.  This hormone disruption can also affect fetal development.
The good news is that there are set limits on the concentration of parabens that can be used in cosmetic products.  The bad news?  A cosmetic manufacturer can still use more than one paraben in a product.  And a person may be using several paraben-containing products daily.  These exposures start to add up.
How best to avoid parabens…
It is important to know that a product label which reads "paraben-free" does not necessarily mean it is free from all synthetic preservatives.  A product requiring a preservative would either need a different preservative to take the place of parabens, or the product would need to be reformulated to be stable without the use of a preservative.  Phenoxyethanol and formaldehyde are both toxic chemical preservatives to look for on product labels.
Some plant and essential oils, herbal extracts and vitamins are natural preservatives. Packaging in tubes and pump bottles helps in the preservation of a product, as does the use of the purest ingredients. Many natural cosmetics manufacturers have developed their own unique and effective preservation systems.
Remember, preservatives are good things.  We need them to keep certain products stable and safe for use.  But there are healthier alternatives to parabens.  Be sure to check ingredient listings for chemical preservatives, and don't trust the "paraben free" labeling.  You are your own best defense.
If you have further questions on parabens, or any other cosmetic ingredients, please leave a comment below.
Image from Wikipedia.org