The newest sustainable fashion product boasts a pretty impressive guarantee- the so-called "30 year sweatshirt" will supposedly last a lifetime, or at least 30 years!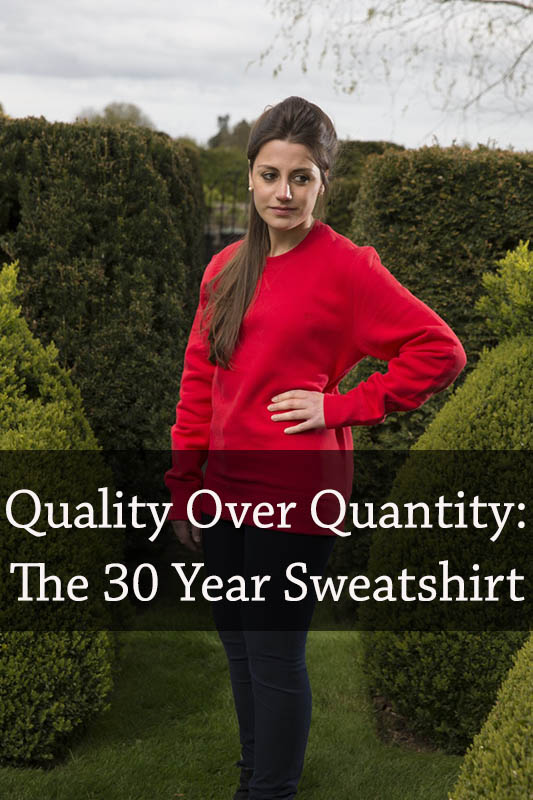 The sweatshirt was created by Tom Cridland, a UK native with a major commitment to sustainable fashion. Cridland launched the sweatshirt's Kickstarter campaign last month, and the product is already fully-funded.
At a glance, the sweatshirt doesn't look like much- just a regular, crew-neck sweatshirt. But this simple item has all the hallmarks of a sustainable product. It's handmade by skilled artisans in Portugal out of organic cotton, and uses a "responsible production ethos" throughout the manufacturing process.
What sets the sweatshirt apart is, of course, the guarantee that it will last 30 years. Cridland even says the company will perform free repairs on sweatshirts that show signs of wear and tear before the 30 years are up!
And this isn't Cridland's first foray into fashion design and manufacturing- he already has a line of men's pants too- so the guy knows his stuff!
One of the highlights of the campaign is that it brings attention to fast fashion. It specifically raises the issue of how those cheap items are made to break, tear, and just fall apart, since that means you'll keep going back for more. Cridland's belief is that clothing CAN last a lifetime, and so he uses higher-quality materials and responsible production processes to make sure the final product lives up to its guarantee.
Quality over quantity is definitely a mindset that I embrace when it comes to fashion, and it really pays off! Ever heard of cost-per-wear? It's a surprisingly well thought out equation that allows you to make shopping decisions based on how often you'll wear the item in consideration.
The equation is as follows: estimate the number of times you'll wear the item in one month, multiply is by 12, and then multiply it by the number of years you think you'll hang onto the piece. Then divide the cost of the item by that number.
So basically, cost-per-wear is a good reminder to keep purchases practical, but also to make smarter investments in the clothing you buy. When you think about fast fashion items, and how they're usually bought on a whim, it's hard to justify the impulse purchase on something you won't actually wear!