Most single women would give anything to start all the fun of wedding planning before she officially has the ring, so here's your excuse to do so. If your personal values have led you to follow a more environmentally and socially conscious lifestyle, then your wedding will likely be no exclusion. There are literally thousands of ways to make your wedding more "green" and one in particular comes into play before he even gets down on one knee.
It's amazing how uneducated and distanced we've become from the goods we buy. Until the past few years, we didn't even ask the questions, 'where did this come from?' or 'who did this affect?' But now, more than ever, we are becoming aware that we can't always take products at face value. Behind some of our most beloved purchases, including sparkling jewelry, there is a dirty secret involving worker exploitation, toxic pollution and cultural destruction.
The list of sins committed by the traditional jewelry market is too long to list here, but I'll give you a few.
• Gem mining has been (and still is) a vehicle for violent conflict and forced labor
• Miners and gemstone artisans are often underpaid for their work and not provided safety provisions or benefits
• Metal mining is the #1 toxic polluter in America
• Metal mining is the cause of Acid Mine Drainage, which is destroying our drinkable waters
If this is not the type of activity you'd like to support, then I encourage you to drop a subtle little hint to your soon-to-be-fiance that, if he's thinking of popping the question, you'd like to have a say in where he gets the ring.
Lucky for you, there are several options for sourcing ethical engagement rings from organizations that have taken great pains to get it right…scrutinizing every detail of their supply chain to make certain that they can exert as much positive influence on worker treatment, social interaction (conflict-free) and environmental protection as possible.
Today's modern bride is not limited to mere diamonds in her selection of a wedding ring. Check out this stunning ruby for a more contemporary approach.
C5 specializes in custom designed wedding rings to reflect your unique taste. They use recycled precious metals, fair trade gems and lab-grown genuine gems to minimize impact on the environment and protect workers rights.
Pictured below: "Ruby AT4": 100% recycled palladium, 1 4-ct. lab-created ruby and 34 lab-created ruby accent gems
If you plan to follow tradition, here's a convenient way to scratch that 'something blue' off your bridal to do list.
In sourcing materials, CRED seeks full transparency from mine to retail. CRED use natural stones and very rarely they will be heat-treated. The diamonds wherever possible come from fully traceable sources. All gold and platinum is supplied by their partners Oro Verde.
Pictured below: Aquamarine Trilogy Ring – Aquamarine emerald cut trilogy ring set in 18 carat white gold – £1595.00
Crafted by true artists who pour their creative talents into each ring using 100% recycled gold, platinum and silver as well as conflict-free Diamonds and fair trade gemstones.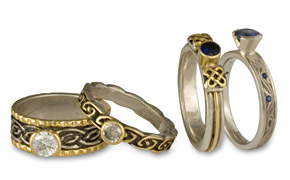 About the Author
Katherine DalPra is owner/designer for Green Diva, an online boutique of eco-friendly bridal jewelry and eco-friendly fashion jewelry.